Students honored by board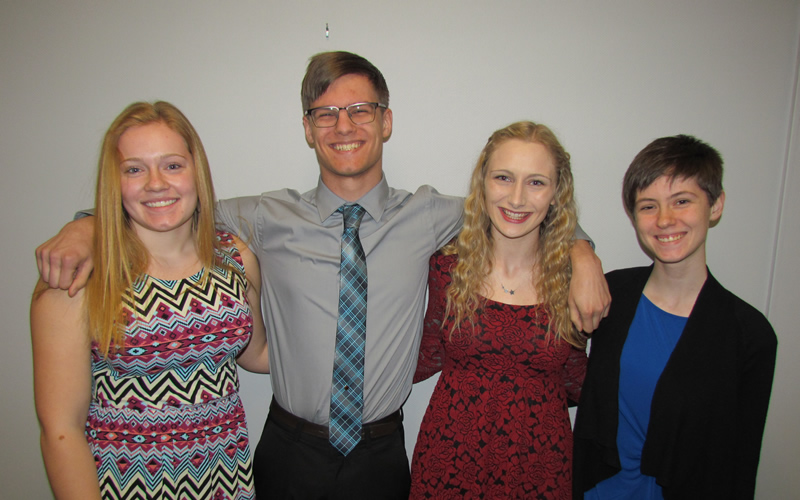 Congratulations to, from left: Allison Miszler, Corey Chorba, Abigail Hynes and Elizabeth Rhyne for their outstanding academic achievements at Honesdale High School. [PHOTO BY DAVID MAZZENGA]

The Wayne Highlands School District (WHSD) Board of Directors lauded the efforts of four superlative students at their regular business meeting held Tuesday, February 19.
All four students, Corey Chorba, Abigail Hynes, Alison Miszler, and Elizabeth Rhyne, rank among the top ten percent of their class.
The scholars have consistently made Honor Roll and are members of the National Honor Society (NHS).
Chorba
Corey Chorba is the son of Stephen and Michelle Chorba of Beach Lake.
A fan of the humanities, Chorba is a member of both the U.S. History Club and Creative Writing Club at Honesdale High School (HHS).
He has also participated in the Envirothon and volunteered for the Annual Book Exchange at the Park Street Complex.
Looking ahead, Chorba plans to attend Duqesne University for six years to earn his Pharmaceutical Doctorate.
Thanking the Board, Chorba said, "This is a great honor. I could not describe how happy this makes me with all my 13 years of stress."
Chorba likewise thanked his parents for their support. "I definitely couldn't have done it without them."
Finally, Chorba stated, "And I'd like to thank Mrs. Tonkin especially for everything she's done for the chemistry program. I feel like the two years of inorganic and organic chemistry will definitely help me to become a decent pharmacist."
Hynes
Abigail Hynes is the granddaughter of Robert and Cynthia Blair of Honesdale.
An avid academic, Hynes has competed in both the Marywood Math Contest and the American Mathematics Contest.
She is also a tutor at HHS.
Athletically, Hynes is a member of the unified track & field team, and is a cheerleader for the wrestling team and the varsity (v)/junior varsity (jv) football teams.
Extra-curricularly, Hynes is a member of the Spirit Club, the Class of 2019 Club and the Chamber Choir.
In the greater WHSD community, Hynes received her Bronze and Silver Award as Girl Scout and was elected East Coast USA Miss Pennsylvania.
She was also a Faith Formations Teacher and received the Saint Martha's Award from the Diocese of Scranton.
Hynes plans to obtain a degree in biology from a four-year university before joining the medical research field to find cures for genetic disorders and autoimmune diseases.
Thanking the Board for the recognition, Hynes said, "It fills me with so much pride to be able to be here today."
Hynes noted she is especially grateful for class advisors, Laura Lockwood, Mike Jurkowski, and Kari Kromko.
"These people have truly taken the time inside and outside of the classroom to touch me in ways that words cannot describe," she said.
"During my final year here at Wayne Highlands, I believe it will be the hardest to say goodbye to them as I embark on my next chapter in life."
Hynes extended a thanks to her cheerleading advisor Coach Becker, "...has taught me so much about dedication and teamwork," and her grandparents "... for all your guidance in raising me."
Hynes concluded, "I can't thank the teachers, students and administration enough for all that they have taught me and all the support they've given me throughout my years here. Without all these individuals and my faith, I would not be the person I am today. Thank you so much for this honor."
Miszler
Alison Miszler is the daughter of Michael and Holly Miszler of Hawley.
Developing her leadership skills, Miszler is a Student Council member-at-large.
She is also a member of the Interact Club and Honesdale FFA.
Miszler has participated as a member of several HHS athletics teams including Freshman girls basketball, junior high track & field, tennis and jv/v softball.
Miszler lettered playing both tennis and softball, also earning the Rookie of the Year award in the latter her sophomore year.
Miszler plans to attend Penn State University Main Campus to obtain her bachelor's degree in veterinary and biomedical sciences.
Following that, she aspires to attend veterinary school. Miszler extended her thanks to the board and administration "for all the opportunities that I've been given throughout all my years at school."
She was particularly fond of classes such as Organic Chemistry, AP Statistics and the ag program, "which will really help me when I go to college to study veterinary medicine."
Miszler thanked her parents, who "...always pushed me to be the absolute best I can, both in and out of the classroom," and her younger sister for their close bond.
She also thanked Lockwood and Kromko for their assistance in and out of the classroom, and her tennis coach Kim Rickard, "...who is always there for me, even during the off-season, on and off the tennis courts. I've never had a sports coach so caring and involved as Coach Rickard."
Expressing her gratitude for her time spent in the WHSD, Miszler concluded, "I will be forever grateful for the ... memories made and also the lessons I've learned these many years at Wayne Highlands School District."
Rhyne
Elizabeth Rhyne is the daughter of Darryl and Colleen Rhyne of Honesdale.
While at HHS, Rhyne has participated in the Reading Competition and the Pennsylvania Junior Academy of Science (PJAS).
An accomplished artist, Rhyne was a winner and honorable mention of the Scholastic Art Contest, and was featured as an Emerging Artist at The Art Factory of White Mills.
An ardent agriculturalist, Rhyne is a member of Honesdale FFA and has participated in Community Connections to Our Watershed and Pathways in Ecological Research. She plans to attend Wilson College after graduation to obtain a dual major in animal studies and equine studies.
With a succinct display of gratitude, Rhyne said, "I would just like to thank the school board for recognizing me and my academic achievements."
She further extended thanks to her family, the teachers and the administration at HHS, "for supporting me, allowing me to do great."
Rhyne concluded, "And I would also like to thank Ms. Hack and all those who were involved with the implementation of the ag department. It has really given me great opportunities."
Words from the district Speaking on behalf of the Board, Director Heather Stephens told the students, "It gives us great pleasure to see such talented … young adults here with us tonight. All your accomplishments both inside and outside the classroom demonstrate what superb students you have been throughout your high school career."
"Leaving high school and continuing your journey can be both scary and exciting...," she continued. "but the journey is valuable. And believing in your talents, abilities and self-worth will allow you to do great things in life."
Speaking on behalf of the administration, Superintendent Gregory Frigoletto noted what may have presented as stress in the 13 years of school thus far is really just the care demonstrated by the students, their teachers and family members to succeed academically.
Frigoletto stated the combination of scholastic skills and familial support "...have put you in a position where we think very soon, you're ready to be launched."
"And it is with great confidence...," he continued, "that we know you're going to do well. You have all of those things in place and you're going to take what you've learned and move it forward as you go ahead."
Article and Photo Courtesy of David Mazzenga of the Wayne Independent