Lady Hornets look to bounce back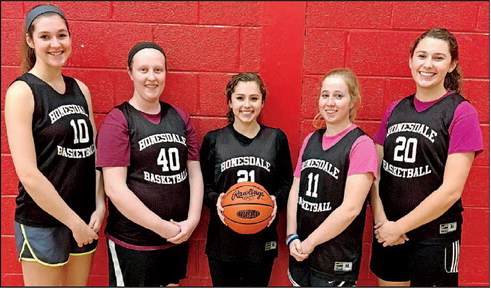 After winning three district titles in four years, Honesdale's girls basketball team took a step back last season.
The Lady Hornets struggled to a 5-18 overall record and finished fourth in the Division II standings.
Coach Pilar Beam's squad did qualify for the District Two tourney, but fell to Scranton Prep in the first round of the AAA bracket.
A year later, though, it appears as though the Red & Black may be back.
With an interesting mix of battle-tested veterans and talented youngsters, Honesdale is poised to make some serious noise in the Lackawanna League and beyond.
"I truly believe that we can challenge for a division championship this year," Coach Beam said. "If we keep working hard and stay healthy, there's no reason we can't be right there when it comes time for the district tournament, too."
The Lady Hornets begin that title quest Saturday on the road at Valley West.
"I'm excited to see what we can do," Coach Beam said. "This is a fantastic group of girls and they're working really hard. It should be a good barometer as to where we're at as a team right now."
Opening tip for the Red & Black's opening round tourney game is slated for 6 p.m. The championship and consolation contests are set for Tuesday evening.
Dallas and West Scranton are also in the field.
Senior Leadership
This year's edition of the Lady Hornet squad will be paced by a seasoned group of six seniors.
Emily Theobald, Caroline Tuman, Corinne Casazza, Faith Howell, Karli Martin and Riley Barton will each play a key role in whatever success Honesdale enjoys on the varsity hardwood.
Theobald will be a match-up nightmare for enemy coaches this winter.
A 5-11 power forward, Emily is comfortable playing with her back to the basket. However, she can also step out and hit a jumper or run the fastbreak.
She is Honesdale's top returning scorer.
"Emily is a very wellrounded player," Coach Beam said. "She can be a force in the low post and on the perimeter. Emily is also a good rebounder and plays excellent defense."
Tuman is an intriguing player who began coming into her own last year as a junior center. She stands 6-feet tall and possesses an impressive wingspan, which makes her an imposing presence in the paint.
"I think Caroline is going to have a big year," Coach Beam said. "She's not just a big girl. She's athletic and runs well. I'm expecting big things from Caroline."
Casazza cracked the starting line-up last season and has carved out a niche for herself in the Red & Black backcourt. Corinne was second on the team in scoring and first in total free throws converted.
"Corinne is like our own Energizer Bunny," Coach Beam said. "She always gives 100 percent and leaves everything on the court. Corinne is relentless at both ends of the court and just always seems to make things happen."
Supporting Cast
In addition to this talented group of seniors, Honesdale also boasts a slew of underclassmen battling for playing time.
"We're going be much deeper than we were last season," Coach Beam said. "And, there's a lot of interchangeable parts. We don't lose very much in our line-up one through nine or 10."
Courtney Varcoe is a junior who will see a great deal of playing time off the bench. Sophomores Alexa Jones and Camden Bannan will also be in the mix.
"We're going to mix it up and do a lot of different things," Coach Beam said.
"Not everyone can be a starter, but everyone can contribute something special. I'm challenging our girls to step out of their comfort zone because that's how you get better."
On the Court
Honesdale is winding down on what proved to be an exciting exhibition slate.
The Lady Hornets began with Dunmore, but also squared off against the likes of Bethlehem Freedom and Hanover Area.
"I definitely liked what I saw," Coach Beam said.
"I think we got a little bit better in every game. I'm happy with where we are right now, but there's always room for improvement."
Article Courtesy of The Wayne Independent
By Kevin Edwards