Disney's Frozen Musical OnStage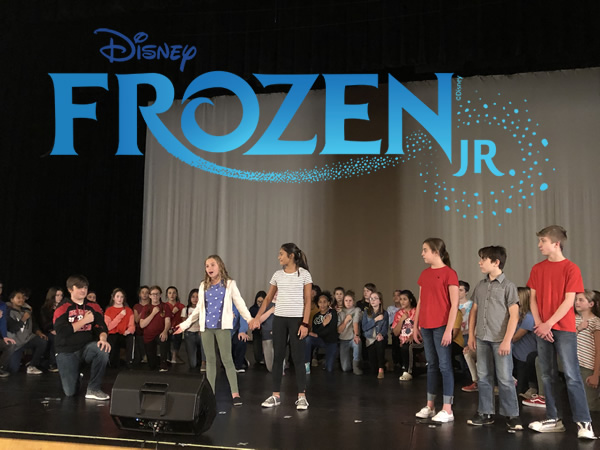 We are proud to announce the Honesdale High School Performing Arts Center's 2019-2020 Musical Season – Voices Live in Light! This Season the Wayne Highlands Middle School proudly presents the Musical Disney's Frozen, Jr., and Honesdale High School proudly presents The Hunchback of Notre Dame; that we would love for you to be a part of it!
We kick off
"Voices Live in Light!"
, as the Wayne Highlands Middle School proudly presents Disney's Frozen, JR.
Disney's Frozen JR.
is based on the 2018 Broadway musical, and brings
Elsa, Anna, and the magical land of Arendelle to life, onstage. The show features all of the memorable songs from the animated film, with music and lyrics by Kristen Anderson-Lopez and Robert Lopez, plus five new songs written for the Broadway production. A story of true love and acceptance between sisters, Frozen JR. expands upon the emotional relationship and journey between Princesses Anna and Elsa. When faced with danger, the two discover their hidden potential and the powerful bond of sisterhood. With a cast of beloved characters and loaded with magic, adventure, and plenty of humor, Frozen JR. is sure to thaw even the coldest heart!
The show plays November 22-23, 2019 at the Honesdale High School Performing Arts Center. The production is directed by Scott D. Miller; choreographed by Jesse Perry; music direction by Martha Curtis and Geri Spinosa; technical direction by Shawn Garing and William Sievers; set designs by Stacy Stone; costume design by Linda Zimmer; prop master Meredith Galinkski; and hair and makeup design by Chelsee Robbins.

The cast of Disney's Frozen, Jr., includes, starring, Lily Taraschuk (Elsa), Diana Raquel Lopez (Anna), Haylei Jones (Middle Elsa), Brooklyn Moody (Middle Anna), Cheyenne Rickard (Young Elsa), Aviana Branning (Young Anna), Hailey Tyler (Bishop), Brenna Miller (Bulda), Andrew McAdams (Butler), Neil Kline (Cook), Santiago Iylanjah, Keith Kolhagen, Leo Martinez-Valerio, Justin Schumacher (Guards), Erin Meagher (Handmaiden), Dominic Miller (Hans), Olivia Pinto (Housekeeper), Nick Eisele (King Agnarr), Seth E. Buckwalter (Kristoff), Daniel Peoples (Oaken Singer of Hygee), Guarionex Curiel (Oaken Spoken), Gracen Barrouk (Olaf), Jacob Garvey (Pabbie), Brielle Mosher (Queen Iduna), Ethan Tackitt (Steward), Robert Ammann (Sven), and Steve Vitale (Weselton). Our featured dancers include Ava Babel, Anna Brown, Haylei Jones, Abby Mizwinski, Brooklyn Moody, Karli Rowles, Alemina Selimovic, and Hailey Tyler. Our supporting cast includes Olyvea Burke, Sheana E. Hugg, Georgianna Maglione, Madeleine Schupper, and Kierra Slish (Castle Staff); Makayla Aikens, Abigail Hiller, Jocelyn Hnath, Olivia Johnson, Elizabeth Meagher, Zoey Sollers Fagan, and Maddison Taninies (Hidden Folk); Paige Hendel, Ashley Hnatko, Jillian Jade, and Katelyn Weist (Oaken Family); Alexis Batzel, Makenzie Batzel, Odilia Dyer, Joslynn Freiermuth, Angela Holmes, Ruth Ihlefeldt, Samantha Linn, Elise Marsh, Zoe Moulton, Lily Murray, Gracie Ronacher, Delaney Rowe, Theresa M. Shaffer, Kadence Tackitt, Madison VanBlarcom, Karlee Warring, and Kieley Scott (Summer Chorus).

We hope you join us this season for a great night of entertainment and support our students in "Our Season - Voices Live in Light!"
Tickets are now on sale. As always, we are offering to purchase tickets to our season on our website. You can order your tickets online (www.honesdalepac.com) using our website portal; call our box office (570) 251-9831 to order your tickets over the phone; or use our new mobile app on your smart phone called Walletini! (Available for free in the App Store on Android and iPhone)
2019-2020
Season: Voices Live in Light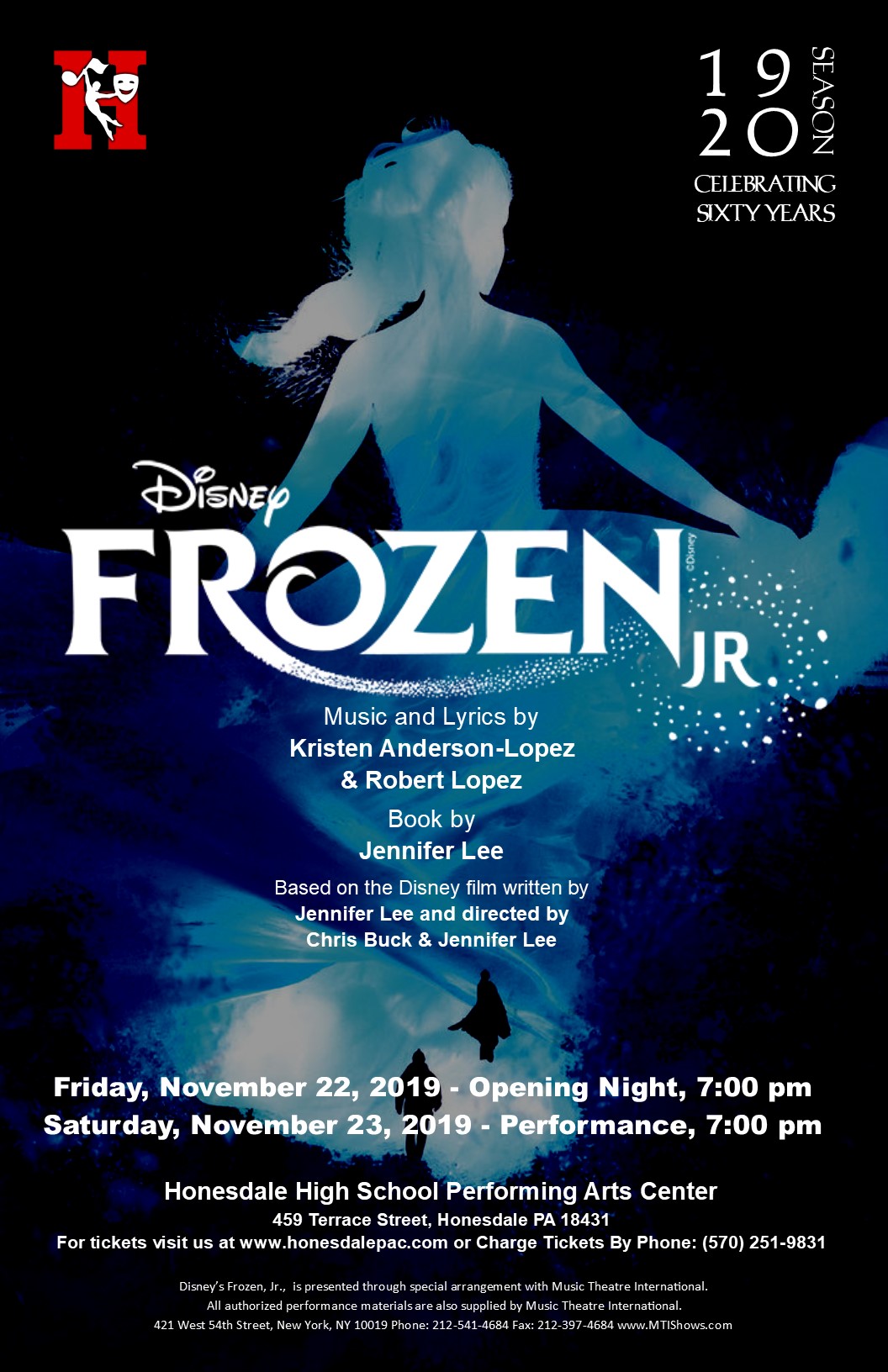 Disney's Frozen Jr
Date
FRIDAY, NOVEMBER 22, 2019 at 7:00 PM
SATURDAY, NOVEMBER 23, 2019 at 7:00 PM
Venue
Honesdale High School Performing Arts Center
459 Terrace Street, Honesdale PA 18431


Ticket Price
Regular $10, Senior (+62) $8, Student $5, Children (3-5) $5, Red/Black Pass (Complimentary)
* For your convenience all service charges are placed within the ticket price.