Students help design sign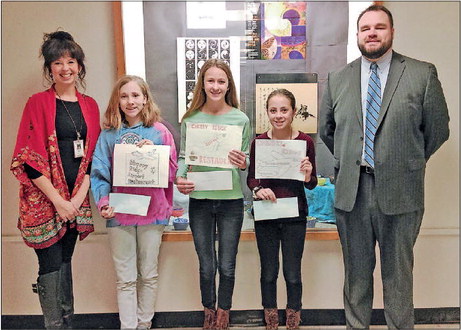 Vicky Lane, proprietor of the Cherry Ridge Airport Restaurant, contacted the Wayne Highlands Middle School art teacher Kathryn Beisel earlier this year with a contest idea. The restaurant was in need of a new roadside sign, and they wanted a local student to have the opportunity to design it.
After a quick class on Advertising and the Principle of Design, Mrs. Beisel's classes got right to work. The amount and quality of entries from the Middle School was so overwhelming that a single winner could not be chosen. So, after much debate, it was narrowed down to one winner and two runner ups.
Seventh grader Hannah Merritt is the overall winner. Her design is the inspiration behind the sign you see now on Owego Turnpike at the entrance to the airport. Hannah received $100 and a gift certificate to the restaurant.
The first and second place runner ups are Kallie Lazaro and Cassie Brink, both eighth graders. The girls also received gift certificates to the restaurant.
"All the winners are well deserving of the honor. These ladies not only take art class with me, but devote their free time, study halls and even lunches, to furthering their artwork. I am so excited to have had the opportunity to work with such young and inspirational artists and can't wait to see what the future holds for each of them,' said Mrs. Beisel.
Mrs. Lane said, "We would like to thank everyone who participated in our sign design contest. We would also like to thank Mrs. Beisel from the Wayne Highlands Middle School for all of her help."
"Hunt Signs is in the process of making our new sign which will be permanently placed where our banner now hangs by the road. Keep an eye out for the new sign and let us know what you think.
'Great job everyone and again thank you to all."
---