Wayne Highlands Education Association Honors 2016 Retirees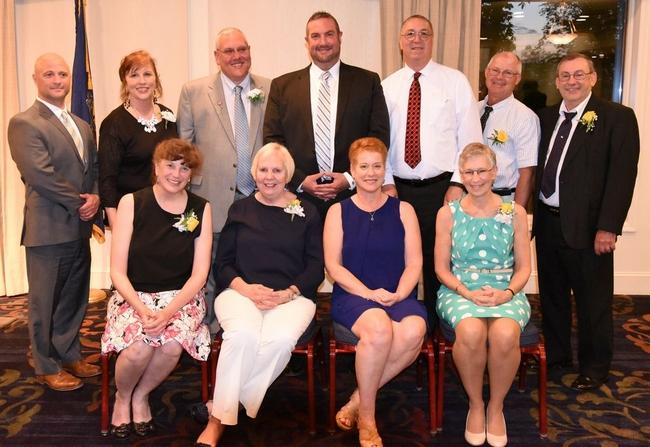 Shown are participants from the 2016 Wayne Highlands Education Association Professional Recognition Celebration which was held May 27, 2016, at The Waterfront at Silver Birches. Left to right front: Laura Ruddy, Elizabeth Slocum, Catherine Phillips and Rebecca Rowe, all 2016 retirees. Back left to right, Gregory Frigoletto, Wayne Highlands School District Superintendent; Ginny Motsko, Celebration Chairperson; Todd Miller, WHEA President and Master of Ceremonies; Timothy Morgan, Assistant Superintendent; Charles Alexander, William McElroy and Wayne Baldwin, all retirees. Picture : Amy Williams

The Waterfront at Silver Birches was the setting Friday evening, May 27,
2016, for the Professional Recognition Celebration of the Wayne
Highlands Education Association (WHEA).
Seven retirees attended and were honored during the festivities: Charles Alexander, Wayne Baldwin, William McElroy, Catherine Phillips, Rebecca Rowe, Laura Ruddy and Elizabeth Slocum.
Also retiring, but unable to attend were Dawn Harvey, Victoria Sheridan, Ellen Silberlicht, and Barbara Smith. Together they dedicated over 350 years to the teaching profession.
President of the Wayne Highlands Education Association, Todd Miller served as Master of Ceremonies and Toastmaster.
Gregory Frigoletto, Wayne Highlands School District Superintendent, also made remarks regarding his relationship and deep respect for the educators, with whom he has worked in his many capacities through out the District.
President Miller and Celebration Chairperson Ginny Motsko presented honored guests with a WHEA gift and a framed certificate.
Frigoletto and Assistant Superintendent Timothy Morgan formally recognized each retiree with a plaque from the District.
During the evening a special acknowledgement was also extended to Wayne Highlands School District Staff who are not members of WHEA.
President Miller stated, "It takes everyone to create excellence within a school system and we thank everyone for their contribution to that goal."
Included in this recognition were; Christine Roberts, Longtime Substitute Teacher; Ann Woodmansee, Head Cook Preston; Ellen Buchanan, Custodian HHS; Gloria Haun, Teacher Assistant Lakeside; Gail Reisch, Head Cook HHS; Susan Corso, Teacher Assistant Damascus; Ann Roach, Head Cook Lakeside; Debra Fulmer, Teacher Assistant HHS; Tammy Wasman, Administrative Assistant; Donald Zintel, Custodian HHS.
Charles Alexander is a graduate of East Stroudsburg State College.
He dedicated 18 years to teaching health and physical education.
For the past 12 years he has served as the Athletic Director and driver education teacher at Honesdale High School (HHS).
He has coached baseball, football, football and softball and is a HHS class advisor.
William "Bill" McElroy is graduate of Marywood College. In 1982 he began teaching 8th grade science in the Wayne Highlands Middle School (WHMS).
In 2009, he transferred to teaching 6th and 8th grade technology. Interestingly, while in college he was a child care aide at St. Joseph's Center and in later years doubled as a part-time bus driver for Martz Trailways.
Barbara Smith is a graduate of Marywood College and completed graduate work at Villanova University in Elementary School Guidance.
She began her educator role at St. Mary of Mount Carmen School and continued at Downington School District and the Trehab Center.
In 1988 she transferred to the Preston area and completed 28 years at Wayne Highlands School District.
Catherine Phillips graduated from East Stroudsburg University with a B.S. and a M.S. in Elementary Education.
Hired by Wayne Highlands in 1981, she has taught seventh and eight grade mathematics, second grade, fifth grade and physical education to kindergarten to grade 2.
She ended her career as an instructional support teacher and English as a second language teacher.
Dawn Harvey is a graduate of the University of Wisconsin-Madison.
She has spent 21 years with the District as a part-time reading specialist, a gifted instructor and she now retires after 6 years as the librarian at Lakeside School.
Rebecca Rowe is a graduate of Lycoming College with a B.A. in Biology and an ASCP Registration in Medical Technology from Abington Memorial Hospital.
After working for several years in the laboratory of Wayne Memorial Hospital, she received a teaching certificate in biology and chemistry from the University of Scranton.
She completes 36 years at WHSD teaching biology, chemistry and advanced placement biology. She also served as longtime boys' basketball cheerleader coach.
Ronald Rowe earned a Bachelor's Degree from Temple University and began employment at WHSD as the Cooperative Education Program Director.
In 1984 he started teaching driver education along with directing the Co-op Education Program. During his tenure as an educator, he has taught Cooperative Education, Distributive Education and Driver Education.
Additionally, he has been an advisor for multiple classes and served as Head Coach of the boy's basketball team for 30 years.
Elizabeth Slocum is a graduate of Pennsylvania State University and completed graduate work at Penn State and Marywood University.
She has taught social studies at HHS for 23 years and worked part-time and substituted for three years at Damascus and JJ Koehler Schools.
A longtime member for the Student Assistance Team, she has served as team coordinator for 19 years.
Wayne Baldwin received an Associates Degree in L.A. S. from Penn State and a license to teach auto mechanics through Temple University.
He then returned to the University of Scranton where he earned a B.S. Degree in Secondary Education Biology and a M. S. in Counselor Education.
After teaching at Lebanon County Vo-Tech for 1.5 years, he began his public school career as a 7th and 8th grade teacher at the WHMS.
He then moved into the guidance department and ends his career as the District Crisis Counselor.
Victoria Sheridan received a Bachelor's Degree in Elementary Education from East Stroudsburg University and a Master's in Early Childhood from Marywood University and a certification as a reading specialist, coach and supervisor from LaSalle University.
Her professional career has included work with Orange County Head Start and 26 years in kindergarten.
She ends her career teaching Title I reading for 4th and 5th grade.
Ellen Silberlicht attended the Rochester Institute of Technology, majoring in ceramic and ceramic sculpture.
She completed graduate work at Marywood University, earning a teaching certificate and a Master's of Art.
She began as a part time teacher at HHS, WHMS and Stourbridge but found a home at HHS teaching pottery, jewelry, computer graphics, yearbook, art techniques and sharing her passion with her students.
Laura Ruddy is a proud Penn State graduate with a Bachelor's Degree in Elementary Educaiton.
She completed graduate work in Reading Education at Marywood University. She taught kindergarten and first grade at Preston for the first five years.
The remainder of her career was spent teaching 6th grade reading, language arts and social studies at the WHMS.
She fondly remembers the creative projects that students loved: Medieval Games, Titanic Skit, Poetry Books, Archeology Digs, Egypt Day, Mexican Fiestas and Greek Goras.
WHEA wishes each retiree a healthy, happy and successful retirement.