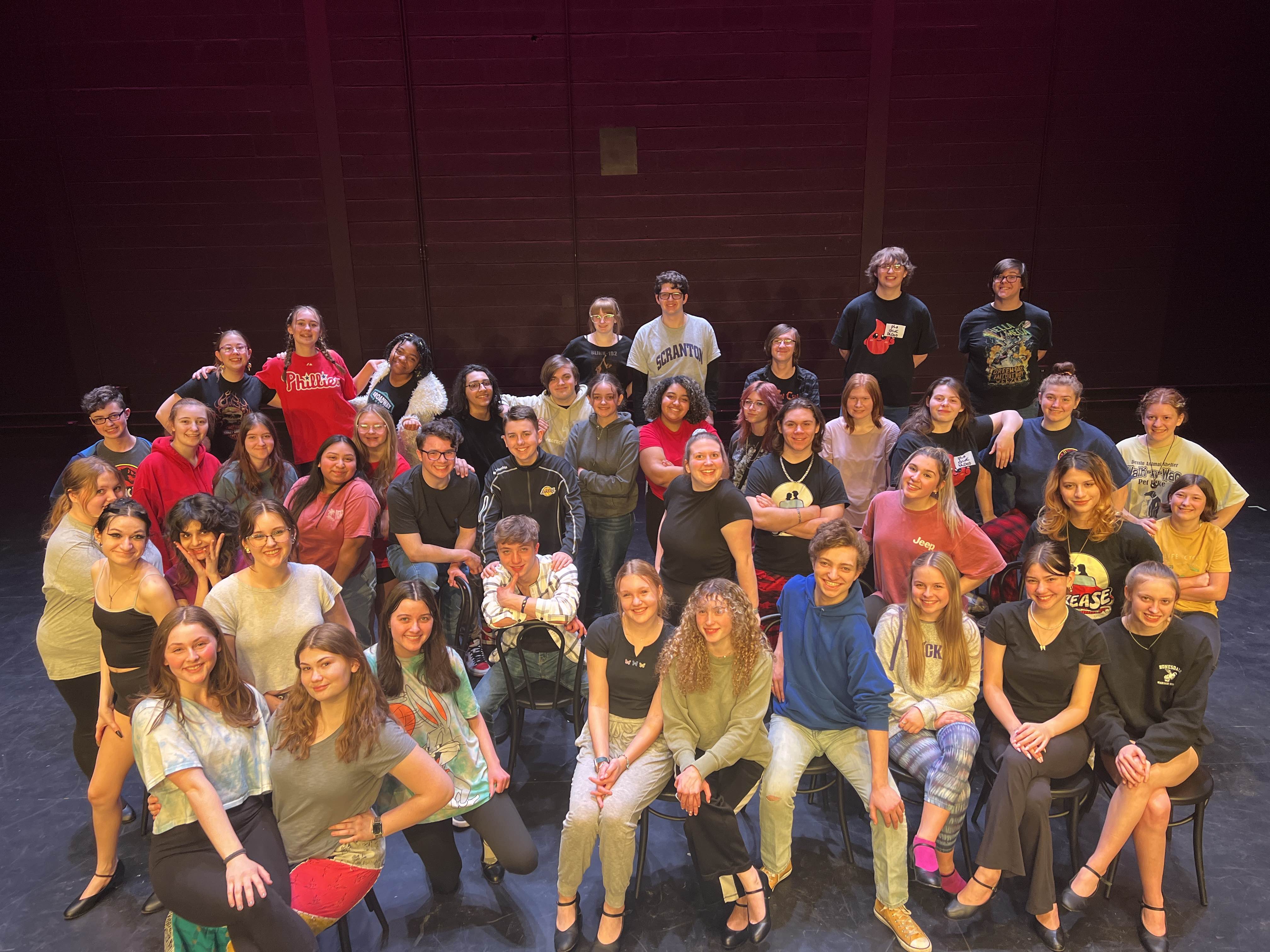 Honesdale High School proudly presents "Chicago: Teen Edition".
We hope you share the excitement as we do and join us, when we open Honesdale High School's Musical Production in the newly renovated performing arts venue with "Chicago: Teen Edition" the musical, on Friday, April 21, Saturday, April 22 and Sunday, April 23, 2023.
"Chicago: Teen Edition" is a musical extravaganza that is sure to wow audiences of all ages. Set in the roaring 1920s, "Chicago: Teen Edition" tells the story of Roxie Hart (sophomore Lily Taraschuk) and Velma Kelly (senior Rochelle Keast); based on the 1926 play by Maurine Dallas Watkins, the musical follows Roxie Hart, whose crime of passion lands her on Merry Murderesses Row, sharing the spotlight with vaudeville icon and fellow felon Velma Kelly. To keep their names in the headlines and themselves off death row, Roxie and Velma rely on lawyer Billy Flynn (junior Seth Buckwalter) to "razzle dazzle" the jury and the press core.
With music by John Kander and lyrics by Fred Ebb, the musical features a book and original direction from Bob Fosse, whose inimitable dance style is infused into the choreography (by Mason Marie Clark) and staging (by Scott D. Miller of this production.
As director Scott D. Miller said, "Everyone in 'Chicago' 'performs' their lives. We're gonna pull back the curtain and let you see…business and the media make celebrities out of criminals – and thereby make crime attractive."
"One of the things the Chicago company does really well is they basically toned down overtly sexual references and really shifted the themes to greed and fame," director Scott D. Miller, explained. "The shows are very, very similar in terms of the Chicago original soundtrack and the teen edition of the Broadway musical and blockbuster film. It's more about how we dealt with toning down innuendos, and incorporating the original Bob Fosse choreography so that it's appropriate for our students. The performers are costumed with the style of roaring '20s, different from what you see in the Broadway production."
The theme of murder plays a big part, focusing on the idea of what that does to people and how people cope and deal with those kinds of situations, Miller added.
This is Miller's ninth year directing the musicals at Honesdale High School Performing Arts Center, and over 27 years of directing, acting and performing on and off broadway in his professional career.
There are 48 student actors, 41 backstage crew leaders and members, and four student musicians in the orchestra pit playing alongside professional musicians; bringing the jazz age of Chicago to life.
Our all-star cast of leading roles include Lily Taraschuk (Roxie Hart), Rochelle Keast (Velma Kelly), Blaine Bolella (Amos Hart), Seth Buckwalter (Billy Flynn), Dominic Miller (Fred Casely), Aviana Branning (Hunyak), Angelica Dyer (Matron "Mama" Morton), Olivia Pinto (Mary Sunshine), Emma Agis (Annie), Danielle Gager (June), Anna Passarelli (Liz), Lexi Pinto (Mona), featured ensemble members Jocelyn Hnath, Ruth Ihlefeldt, Abby Mizwinski, Shannon Hazen, Moira Lawrence, Karli Rowles, Angelina Martinelli, Daniel Peoples (Master of Ceremonies), Justin Schumacher (Alvin), Alejandro Gamon (Azt Monk), Trysten Evanitsky (Charlie), Sean Smith (Dancer), Nolan Haffey (Ezekiel), Brodie Cole (Fogarty), Keith Kolhagen (Harry), Steve Vitale (Irving), Kaitlyn Brown (Kitty), Robert Ammann (Wilbur) reporters, jurors, and wives Brenna Miller, Hailey Tyler, Shay Salman, Renée Miller, Lexi Schumacher, Makayla Aikens, Kayla Ammann, Abbigail Barton , Allison Burt, Jocelyn Cornwall (Ruth), Odilia Dyer (Gladys), Lindsey Eisloeffel (Rosemary), Raven Hennig, Emma McKeon, Sarai Miranda, Saphyra Olver, Kari Stiteler, Karlee Warring, and Alissa Wilson.
The musical is directed by Scott D. Miller; musical director Martha Curtis; pit director Betty Ann Robson; choreographed by Mason Marie Clark; assistant musical director Geri Spinosa; Technical Directors Shawn Garing and William Sievers, Hair, Makeup, and Costume Design by Kathryn Beisel; set design by Stacy Roerig; technical supervisor Amit Fulp; technical stage managers Jacob Babel and Kaleb Flick; and House Manager Evan Funk.
The production crew includes lighting designers Andrew Carrick; sound by Daven Good, Hayden Brink, and Jilian Ciarrocchi; set design Leandra Bloxham, with assistant hair and makeup artists Isabella Ramirez, Angela Holmes, Hannah Devrieze, Landon Johannes, Cheyenne Rickard, Lucas Agis, Sophie Baker, Emily Watson, Casey Coca, and Marissa Lockley; on the stage crew Nolan Duffy, Christian Krasniak, Lakelen Leclere, Jacob Babel, Andrew Carrick, Grason Coar, Caleb Dodson, Amit Fulp, Amanda Kuta , Dominic Miller, Blaine Bolella, Hayden Brink, Julian Ciarrocchi, Daniel D'Albora, Mason D'Albora, Evan Funk, Daven Good, Tyler Kominski, Lucas Murray, Marcus Carnegie, Harry Devrieze, Sam Eisele, Kaleb Flick, Jack Goodwin, and William Kelly.
Reserved seating tickets are on sale now, Regular $12, Senior (+62) $10, Student $7, Red/Black Pass (Complimentary) for all tickets and may be purchased online at www.honesdalepac.com or by calling the Honesdale Performing Arts Box Office at 570-251-9831. Performances are recommended for a general audience. As an advisory to adults who might bring children, this production is recommended for ages 10 and up. All guests entering the theatre, regardless of age, must have a ticket.
The production length of the musical is 2 hours and 15 minutes, with a 15-minute intermission and will take the stage on Friday, April 21 and Saturday, April 22 at 7:00 p.m., nightly, and a matinee on Sunday, April 23, 2023 at 2:00 p.m., at the Honesdale High School Performing Arts Center, 459 Terrace Street, Honesdale PA 18431
"Chicago: Teen Edition" is presented through special arrangement with Concord Theatrical, New York, New York, exclusively with Honesdale High School, and is not affiliated with the professional Broadway or Touring Company of Chicago.
CHICAGO
Honesdale High School proudly presents "Chicago: Teen Edition".
Date
FRIDAY, APRIL 21, 2023 at 7:00 PM
SATURDAY, APRIL 22, 2023 at 7:00 PM
SUNDAY, APRIL 23, 2023 at 2:00 PM

Venue
Honesdale High School Performing Arts Center
459 Terrace Street
Honesdale, PA 18431
Ticket Price
Regular $12, Senior (+62) $10, Student $7, Red/Black Pass (Complimentary)