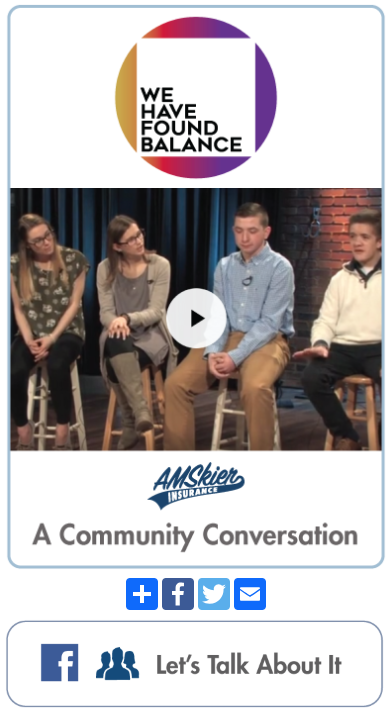 "We Have Found Balance" is a locally produced series sponsored by AMSkier Insurance and designed to help kids around the world make better life choices.

A new, locally produced video series titled We Have Found Balance has been released to highlight the many issues facing young adults today and open a dialogue between students and adults. The purpose of the series is to help young adults know their voices are being heard and there are resources available to them.

Sponsored by AMSkier Insurance, the six-part series features panel discussions from a wide range of experts in the Western Wayne, Wayne Highlands, Forest City Regional and Wallenpaupack school districts, as well as from members of the Chamber of North Poconos Leadership. The experts included teachers, counselors and community organization leadersfrom these districts.
The video series focuses on several issues central to young adults today. These issues include time management, stress and anxiety, social media, drugs and alcohol and planning for the future beyond high school. The project concludes with a segment dedicated to specific programs that young adults can access to receive counseling and support, such as the Student Assistance Program (SAP).

Each chapter features interviews with different students discussing these topics, each sharing their experiences and concerns, and followed by a panel of experts analyzing the interviews and providing advice and recommendations for ways students can cope with their issues and resources they can access to get help.
The We Have Found Balance project was inspired by the AM Skier Insurance Eat, Sleep, Play webinar. Wayne Memorial Hospital's long-time Community Health Manager Donna Decker and Wayne Highlands School District Superintendent, Greg Frigoletto and Wayne County D&APrevention Specialist Mary Paladino, combined their experiences and passion to gather a team of experts to produce this project. This diverse group of community stakeholders got together with one goal in mind; to make something that would resonate with our community's students and their parents.
The videos can be viewed at amskier.co/foundbalance in any order or watched as one video. The webinar that inspired We Have Found Balance as well as links to other informative talk segments can also be found here.
About AMSkier Insurance AMSkier Insurance, based in Hawley, Pa., is the nation's leading direct insurer of children's summer camps and a resource for personal and business insurance throughout Northeast Pennsylvania. Founded in 1920 by Abe Skier, the company is now in its third generation of Skier family leadership.