Lady Hornets set for season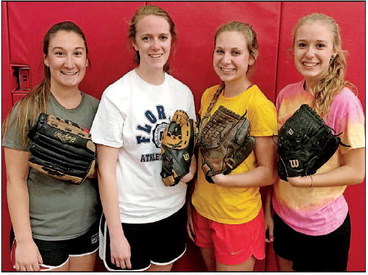 Dave Patrisso has been head coach of Honesdale's varsity softball team for 12 years now.
Over the course of that time, he's kept a steady hand on the helm through dizzying highs and heart breaking lows.
Coming off a disappointing season in Lackawanna League action, Coach Patrisso is certain that his squad is ready for a breakout year.
"I'm very optimistic and excited," he said. "We're still a young team, but we have a lot of talent. This is a wonderful group of girls. They're working hard and champing at the bit to get out there and compete."
Unfortunately for local fans, no one's sure when the Red & Black will be back on the field in he wake of last week's blizzard.
"We're pretty much all in the same boat," said Coach Patrisso. "The weather just hasn't cooperated. But, as coaches, we're doing a lot of teaching inside and that's definitely a plus."
If field conditions permit, the Lady Hornets will play a non-league game versus Carbondale next Tuesday.
Two road trips are also on the agenda, one at Dunmore (March 29) and one at East Stroudsburg South (April 1).
Opening Day of the 2017 Lackawanna League slate is still tentatively scheduled for Monday, April 3 at home against Scranton.
First pitch is set for 4:30 p.m. at the Daniel J. O'Neill Sports Complex.
"No excuses!" exclaimed Coach Patrisso. "We'll be ready to go whenever the time comes."
Overview
One of Honesdale's main problems last spring was a maddening inability to generate consistent offense.
The Lady Hornets were held to two or fewer runs on eight occasions, including five times in their last seven ballgames.
That should change this season as a bevy of big boppers will dominate the middle of Honesdale's batting order.
"We're hoping to shift our approach a little bit," Coach Patrisso said with a smile. "We have some kids who can really crush the ball, so I'm hoping to play for big innings instead of focusing on 'small ball.'" Honesdale got off to a solid start in 2016, winning two of its first three games before going into a tailspin that resulted in 11 straight losses.
The Red & Black closed out the campaign with a 2-11 record in Division II and an overall mark of 3-12. This spring, the local lasses will compete in a newly reconfigured division against the likes of Scranton Prep and Valley View.
"Our main goal is to be competitive every game," Coach Patrisso said. "If we are tied, or within a run in the sixth inning, I like our chances of winning."
Leadership
If Honesdale does indeed turn things around, Jami Lesek will undoubtedly be one of the main reasons.
A fireballing junior righty, Lesek is entering her third year as ace of the Red & Black pitching staff.
"I think Jami is going to have an outstanding year," Coach Patrisso said. "I'm expecting really big things from her this season."
Lesek will be pitching to second year catcher Sadie Wood. A tough-as-nails sophomore, Wood broke into the starting line-up as a frosh and hasn't looked back since.
"I like what I see from
SEE SOFTBALL, A9
At a Glance...
■ Honesdale's varsity softball team is deep into preparations for the 2017 Lackawanna League season
■ The Lady Hornets are coming off a 4-8 finish in the Division II standings a year ago.
■ Weather permitting, Head Coach Dave Patrisso's squad will be back in action Tuesday afternoon at home versus Carbondale.
■ Honesdale will compete in a reconfigured Division II this year against the likes of Scranton Prep and Valley View.
Sadie," Coach Patrisso said.
"She throws out a lot of runners and handles our pitchers well. Sadie and Jami have really developed some good chemistry."
In addition to this stellar battery, Honesdale has several other talented players returning to the fold for the 2017 season.
Kaitlyn Price leads the way. A sophomore and returning Division II All Star, Price will move from designated hitter to a starting
role in the outfield.
Alexa Jones is back to anchor the Lady Hornet infield at third base. A powerhitting sophomore, Jones is already one of the league's most feared sluggers.
"Alexa can be pretty scary in the batters box,' Coach Patrisso said. "She has a ton of power and drives the ball from gap to gap. If you make a mistake pitching to Alexa, she's going to make you pay."
Jackie Martin is truly a battle-tested veteran.
A senior who's played the past three years in
the outfield, Martin could well find herself as Honesdale's starting shortstop on Opening Day. She'll also bat at the top of the order, setting the table for her hard-hitting teammates.
"Jackie is very athletic," Coach Patrisso said. "She gives us some much-needed veteran leadership."
Brianna Potter will man first base, while Heaven Houck, Brooke Gardas and Sydney Cummings battle for the remaining outfield spots.
Article Courtesy of The Wayne Independent
By Kevin Edwards
Group Sports Editor