HHS to Stage Disney's The Little Mermaid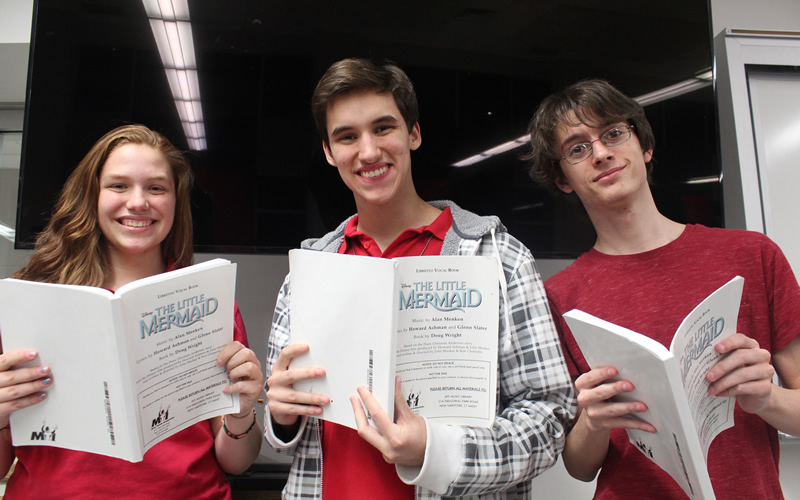 The Honesdale High School Performing Arts will present "Disney's The Little Mermaid." with music by Alan Menken, lyrics by Howard Ashman and Glenn Slater, and book by Doug Wright with license through Music Theatre International. Disney's The Little Mermaid. is playing at Honesdale Performing Arts Center, on the campus of Honesdale High School Friday, February 17 and Saturday, February 18 at 7:00 p.m, and Sunday, February 19 at 2:00 p.m. The cast is also hosting a Disney Character Breakfast Buffet on Saturday, February 18 at 9:00 a.m. The musical, is based on the 2008 Broadway production and the 1989 animated feature film.
In a magical kingdom fathoms below, the beautiful young mermaid Ariel longs to leave her ocean home to live in the world above. However, leaving her life under the sea means defying her father, King Triton. Ariel makes a deal with the evil sea witch, Ursula, and it seems that all her dreams are coming true. But can she convince Prince Eric that she's the girl with the enchanting voice? With help from Sebastian, Flounder, Scuttle, and all her other sea-faring friends, Ariel discovers the importance of following your heart, whether on tail or on foot. With well-known songs such as "Under the Sea," "Kiss the Girl," "Poor Unfortunate Souls," and the popular "Part of Your World," this musical will surely have theatre patrons of all ages "flippin'" their fins.
"So many times parents ask, is your production of The Little Mermaid good for kids?" – explains Scott D. Miller, executive director, "I always say Did Nemo have a funny-lookin' flipper? By all means, this show is tailor-made for the kids! Even the young-young ones won't be scared by that mean ol' Miss Ursula, whose lair is accented with tricky stage effects. The last thing your kids will want to do is close their eyes. Adults may get teary eyed toward the end, but kids won't want to leave the theater!"
Students leading the all-star cast of Honesdale High School's musical is Emily DeCrotie as Ariel, Michael Kirk as Prince Eric, Nicholas Theobald as Flounder, Andrew Murphy as Sebastian, Olivia Galarza as Ursula, John Walczyk as Grimsby, Liam Pietraszewski as the Pilot and Chef Lois, BJ Holloway as King Triton, Madison Palmer as Jetsam, and Mo Feustel as Flotsam.
Ariel's Mersisters will be played by Kayleigh Pugh as Adella, Jordan Peer as Allana, Hannah Luben as Andrina, Maggie Murphy Aquata, Gracie Gombita as Arista, Kirsten Gager as Atina, Maria Kannebecker and Hannah Marin.
The role of Scuttle will be played by Daniel DeCrotie, and the other gulls will be played by Dana Pratt, Kallie Lazaro, Emma Messersmith, and Katie Ranner. We will also feature Christina Canfield, Kayla Taninies, Mackenzie Tagle, Mika Brauser, Taylor Slish, and Annabelle Brinkerhoff as featured dancers.
The Princesses will be played by Elizabeth Blum, Emily Bialecki, Emily Quinn, Morgan Brown, Sophia Bodnar, Brooke Landers, Emily Roberts, Mary Kate McDonald, Miranda Fritz, Rochelle Keast, Annabelle Brinkerhoff, Aaliyah Sims, Cassie Griffis, Nicole Roberts, Shayla Mullican, Taylor Frish, Annabelle Brinkerhoff, Mary Kate McDonald, and Taylor Slish.
The Sailors will be played by Blake Lipsmeyer, John Lukan, Kyle Peer, Matthew Tracy, and Noah Luben.
The Lagoon Animals, Merfolk, Sea Chorus, Poor Unfortunate Souls, Sea Creatures, Sailors, and Chefs will be played by Brooke Landers, Emily Roberts, Rochelle Keast, Abby Skelton, Alyssa Stumpo, Amaya Hall, Anna Dunsinger, Bella DeNardo-Yost, Hannah Merritt, Kaitlyn DeFazio, Olivia Tagle, Zack Wilken, Brianna Taninies, Calvin Feustel, and Kaeleb Jones.
The Broadway style production will also have a live orchestra pit to underscore the production with Honesdale High School students Haley Cowger, Lauren Dyser, Danielle Eifert, Angelea Francesco, Kalah Gries, Lauren Kutch, Faith Lawson, Katherine Matlaga, Stephanie Matlaga, Lora Protzman, Alexandria Reed, Tessa Vendetti, and Alexa Yatwa.
The production is directed by Scott D. Miller; choreographed by Jesse Florance; music direction by Martha Curtis; orchestra pit direction by Betty Ann Robson; rehearsal pianist Geri Spinosa; technical direction – lighting and sound by Shawn Garing and Nick Slish; set designs by Jason Smith and Brittany Cardona; costume design by Linda Zimmer; prop master Meredith Galinkski; hair and makeup design by Linda Forlenza; photography and promotional publicity by Stacy Stone, and additional professional orchestra pit members Kelsey Frisk, Christopher Gallo, Megan Gullone, Gabriella Osegueda, and James Willow.
Performances will take place Friday, February 17 and Saturday, February 18 at 7:00 p.m, and Sunday, February 19 at 2:00 p.m., at Honesdale Performing Arts Center, on the campus of Honesdale High School. All seating is reserved and tickets are Adults $9, Senior (+62) $8, Student $5, Children (3-5) $4, Red/Black Pass (Complimentary). The musical production run time is around two hours and twenty minutes with one twenty-minute intermission.
The Character Breakfast will take place on Saturday, February 18, at 9:00 a.m., at Honesdale High School Cafeteria. As a special gift, all children in attendance at Breakfast will receive an LED Tiara or LED Blue Trident. Breakfast Menu will include Buffet Breakfast includes: Scrambled Eggs, Bacon, Sausage, Pancakes, Cereal, Breakfast Potatoes, dessert, Beverages include Juice, Milk, and Coffee. Tickets are available online or by phone, Adults $10, Students and Children $8.
For information, directions, and to charge tickets by phone, please call 570-251-9831. Tickets are also on sale online at http://www.honesdalepac.com.