Disney's 'Lion King Experience' Musical OnStage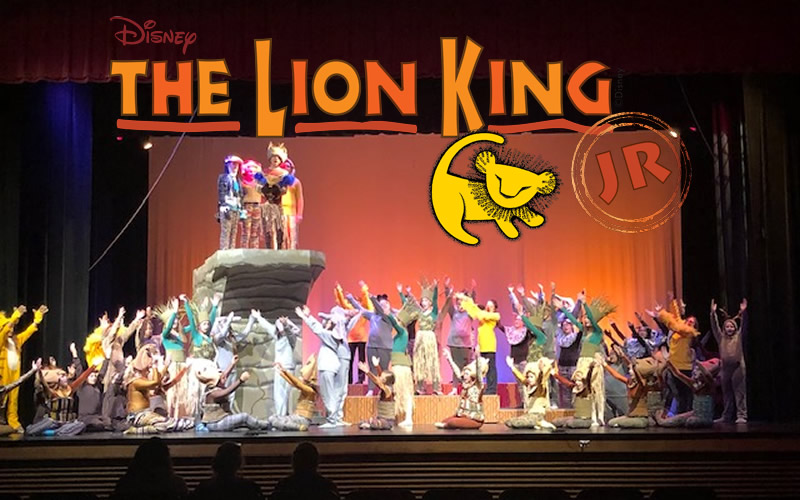 Honesdale, Pennsylvania, – Wayne Highlands Middle proudly presents Disney's musical "The Lion King Experience" which kicks off the 59th season at the Honesdale High School Performing Arts Center.
The musical is based on the Broadway musical adapted from the 1994 animated film. It is directed by Scott D. Miller and features 64 actors and actresses of Wayne Highlands Middle School. Music and Lyrics by ELTON JOHN & TIM RICE. Additional Music and Lyrics by LEBO M, MARK MANCINA, JAY RIFKIN, and HANS ZIMMER, Book by ROGER ALLERS & IRENE MECCHI, and Based on the Broadway production directed by Julie Taymor.
"The students have made leaps and bounds since day one. From being more expressive to projecting their voices, they have worked very hard to get where we are today and I could not be more proud of every one of them," Miller said in a press release. "I am thrilled and blessed to be just a small part of something so amazing."
The play focuses on curious lion cub Simba who struggles toward adulthood and his destiny to become king of the Pridelands. Simba must find inner strength and bravery to confront and defeat his wicked Uncle Scar who has taken over the kingdom. Along the way, Simba receives help from lioness Nala, meerkat Timba and warthog Pumbaa. Songs include "Hakuna Matata" and "Can You Feel the Love Tonight" among others. The entire production is using costumes rented from a professional theatre company from New York. The entire show will be as real as the Broadway production!
"People love 'The Lion King' on Broadway and theater goers both young and old will absolutely love this production." Miller said. "We always have a great response and warm welcome from our local community."
The Wayne Highlands cast of "Lion King Experience." includes Brodie Cole as Mufasa, Anne Meagher as Nala, Cornelius Kline as Pumbaa, Seth E. Buckwalter as Rafiki, Angelica Dyer as Sarabi, Kayla Ammannas Sarafina, Rochelle Keast as Scar, Dominic Miller as Simba, Lexi Pinto as Timon, Lily Anna Taraschuk, Young Nala, Daniel Peoples as Young Simba, Erin Meagher as Zazu, Steve Vitale as Banzi, Keith Kolhagen as Ed, and Diana Lopez as Shenzi.
The company ensemble also includes Grassland and Puppeteers Elizabeth Meagher, Brooklyn Moody, Zoe Moulton, Isabella Ramirez, Madisyn Roegner, Kierra Slish, and Maddison Taninies; Deer Kirsten Dexter, Paige Hendel, Brielle Mosher, and Theresa Shaffer; Elephants Grace Albano, Joslynn Freiermuth, Faith Gombita, Ruth Ihlefeldt, Cecilia Marchesin, and Gracie Ronacher; Monkeys, Guarionex Curiel, Santiago Iylanjah, Leo Martinez-Valerio, and Justin Schumacher; Mice Trinity Kline, Elise Marsh, Rory Steelman and Kadence Tackitt; Toucans Aviana Branning, Mikayla Charpentier, Kieley Scott, Hailey Tyler; Zebras Lea Bloxham, Madison Breidenstein, Elizabeth M. Hernandez, Angela Holmes, Jillian Penn, Skye Skinner, and Anabelle Wengler; Hyenas Gracen Barrouk, Alexis Batzel, Olivia Pinto; Lionesses Emily Bennett, Olyvea Burke, Courtney Crum, Haylei Jones, Georgianna Maglione, Cheyenne Rickard, Delaney Marie Rowe, Alemina Selimovic, Aviana M. Spry, and Claragail Wheeler.
The production is directed by Scott D. Miller; choreographed by Jesse Perry; music direction by Martha Curtis and Geri Spinosa; technical direction by Shawn Garing and William Sievers; set designs by Stacy Stone; costume design by Linda Zimmer; prop master Meredith Galinkski; and hair and makeup design by Linda Forlenza. The production also includes upper classmen student assistant directors Daniel DeCrotie, Brooke Landers, Kallie Lazaro, Olivia Tagle, and Amaya Hall; and costumer Emily Roberts.
Performances will take place Saturday, November 17, 2018 at 7:00 PM and Sunday, November 18, 2018 at 2:00 PM, at Honesdale High School Performing Arts Center.
Performances are recommended for a general audience. As an advisory to adults who might bring children, this production is recommended for ages 4 and up. All guests entering the theatre, regardless of age, must have a ticket.
All tickets are Regular $10, Senior (+62) $8, Student $5, Children (3-5) $5, Red/Black Pass members are welcome to the show complimentary. For information, directions, and to charge tickets by phone call 570-251-9831. Tickets are on sale online at http://www.honesdalepac.com.