Students celebrate 'My Special Word'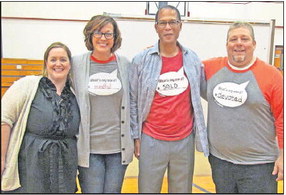 At the end of October, students at Lakeside Elementary and Stourbridge Primary schools were treated to a special presentation from "My Special Word" authors and program managers Alison Green Myers and Dwight Smith.
Functioning for the last few years, the "My Special Word" program encourages children to think critically about words and values they can use to shape their lives and the world around them.
"Kindness is like a boomerang," said Myers during the presentation, "It always returns."
As part of "My Special Word," students select a unique word which describes them and how they relate to the world around them.
Students wrote their words on special shirts they wore to the presentation. These shirts are also worn periodically throughout the year to remind students of their commitment to their word's meaning.
Smith and Myers brought pictures and updates from around the world of students involved in the program, connecting the Lakeside and Stourbridge students with their counterparts across the globe, all through the power of special words.
Myers explained after the assembly the focus on discussing words with children opens a deeper conversation with them than simply asking how they are.
"Any opportunity that we have to have deep
conversations with kids, it lets them feel heard and valued ,and that's really how we empower kids," she said.
Similarly, Smith explained, "A conversation about a word is a reflection of the values that we have...and so I think it's high time that we have a conversation."
Smith noted its his hope the discussion can extend beyond the classroom and into the home, where families can share in the conversation.
"We hear [the students] talk about words like 'love' and 'kind' and 'family,' it shows a bright light of what the future is. And, candidly, I just think there are too many negative words in the world today and we're going to start to change that right here, right now with a global conversation."
Addressing the students at the end of the assembly, Smith stated, "If we can change the words that we use, we can change the conversations that we have. If we change the conversations we have, we can change behavior. And if we change behavior, we can change the world."
Article Courtesy of David Mazzenga, The Wayne Independent