Tonkin named Outstanding Chemistry Teacher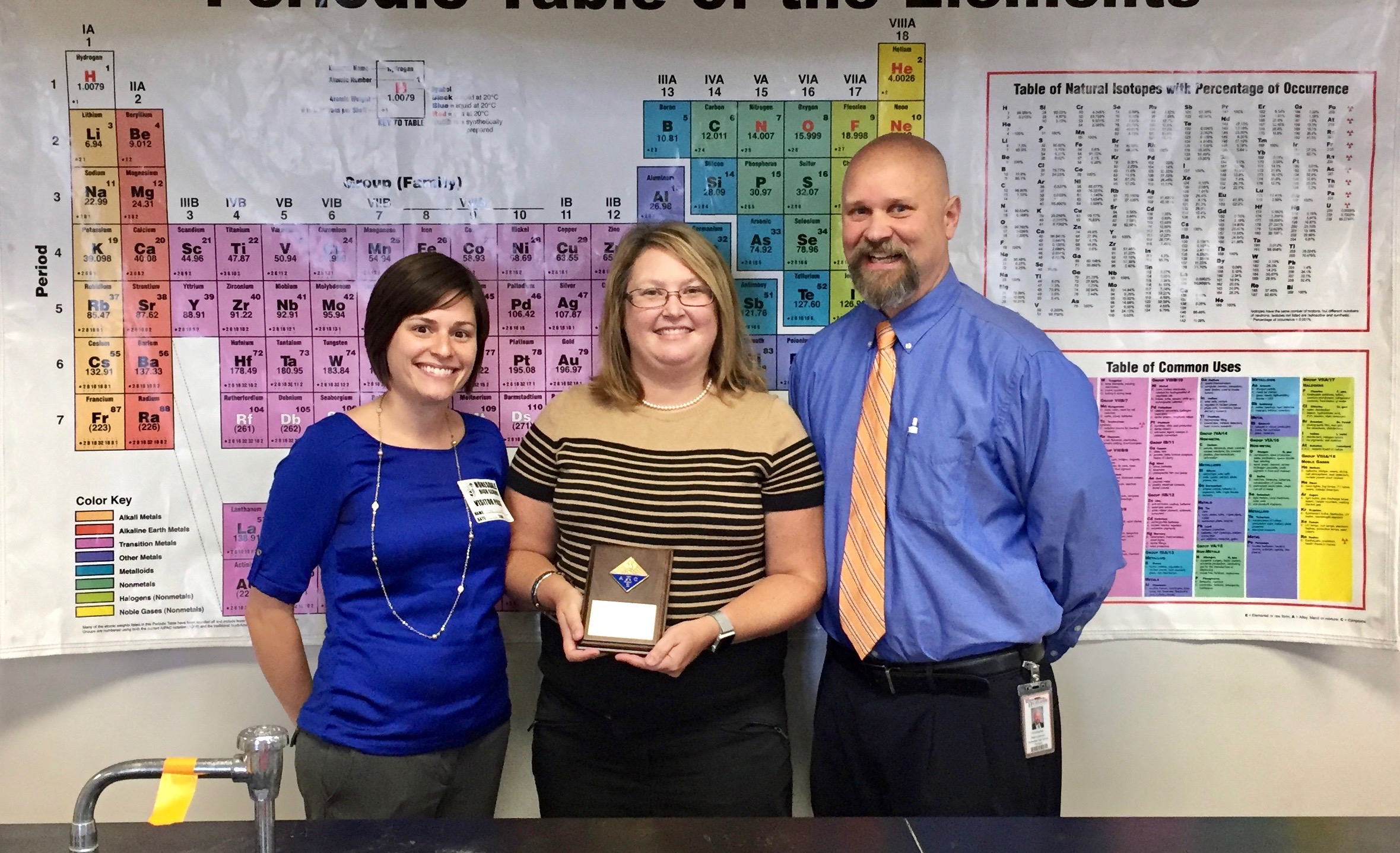 During National Chemistry week (October 16-22) the Susquehanna Valley Section of the American Chemical Society recognizes an Outstanding Chemistry Teacher. This year Mrs. Michelle Tonkin has been selected for the honor. Mrs. Tonkin, Honesdale High School Chemistry teacher, was presented with the Ronald C. Blatchley Chemistry Teacher of the Year award. The prestigious award that Mrs. Tonkin received comes with a $500 stipend to attend a Chemistry conference on the national level.
Mrs. Tonkin graduated from Delaware Valley High School and then earned her Bachelor of Science degree in Biochemistry from the University of Scranton. After spending a year as an analytical chemist, she went back to school and earned her Masters in Education from East Stroudsburg University. She came to work at Honesdale High School in 1996 where she clearly remembers her first conversation with then principal Thomas Jenkins. Mr. Jenkins told her to "Set the bar high and the students will achieve it." This is her motto to this day as she continually sets high expectations for her students.
As she enters year twenty one teaching Inorganic, Honors Inorganic and Organic Chemistry at HHS, she continues to take pride in what she teaches and delights in the success of her students. All instruction in Mrs. Tonkin's classes: lab work, lectures, and group work, has technology seamlessly interwoven. Mrs. Tonkin believes in introducing students to various tools and platforms that will help enhance their learning in the classroom, in college and beyond.
Along with teaching classes, Mrs. Tonkin has encouraged students to put their Chemistry knowledge to the test by participating in the American Chemical Society Challenge Exams and by competing in the US National Chemistry Olympiad. Mrs. Tonkin's love for all things science extends beyond the classroom as she has been an advisor for the Science Olympiad and NE Regional Bridge Building advisor, a coach for the PA Junior Academy of Science, and continues to be an Envirothon advisor.
This Chemistry teacher loves to come to work every day. She wishes the same for her students; to find jobs they love. She keeps a drawer full of notes from former students, most commenting on how prepared they felt for Organic Chemistry at the collegiate level. She also enjoys watching former students succeed in all careers, especially the ones that have a basis in Chemistry. Mrs. Tonkin lives in Pike County with her husband, Ray, and her sons, Garrett and Grant.