Hatboro-Horsham's Robotics Competition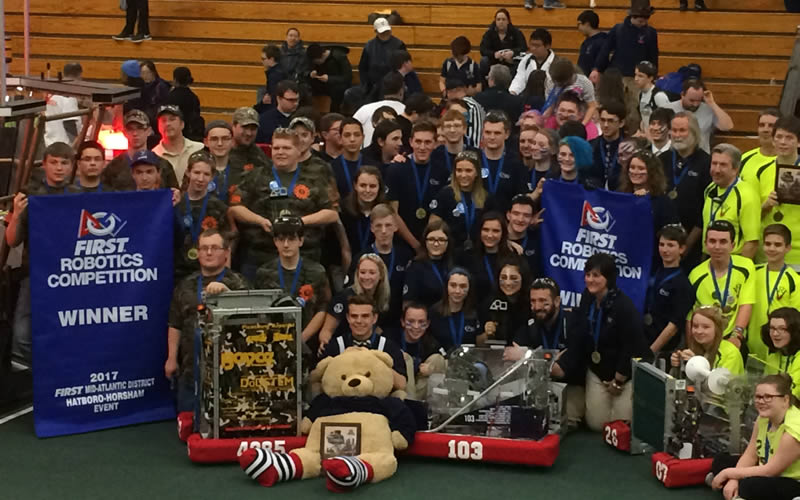 Hatboro-Horsham's Robotics Competition is a District event with in the FIRST robotics competition Program (approx. 4,000 teams across the world, approx. 10,000 students). There are 7 district events in our league, each team competes at two event for points ranking you from 1-120. Our league consists of 120 teams from New Jersey, Eastern PA, and Delaware. (Mid Atlantic Robotics) Our Championship for the league is at Lehigh University where the top 55 will meet in early April. The top 12 teams ranked after added points from the championship then qualify for a now national competition (use to be worlds) in St. Louis Missouri or Houston Texas. The top 6 teams from each of those events then move on to the world championship this summer in New Hampshire, where they will compete against the top teams from across the world.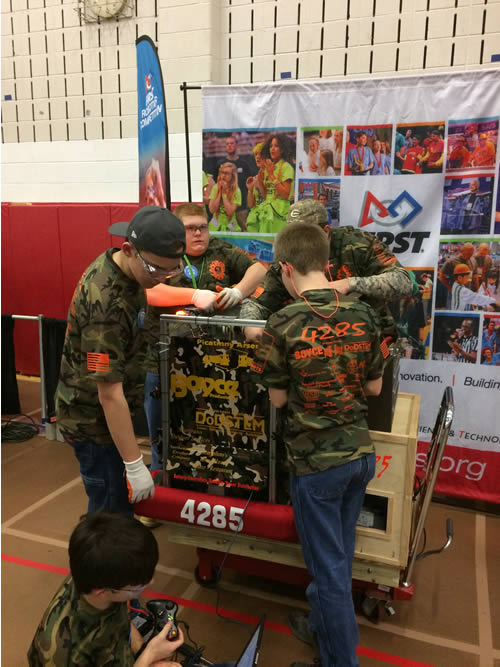 This year's event involved students designing and engineering their robots with specific constraints to only two sizes allowed, and many design constraints typically used each year. The game involved designing a robot that was able to collect either from human feeder station gears and balls or off the ground pick up gears and balls. Each robot then had to deliver the gears or balls to designated areas for points. Teams had a 2 minute 15 second period to manually complete those tasks. In addition, the robot was also designed to deliver a gear autonomously through it's own code in the first 15 seconds of the match with out human interaction. Lastly the robots were given a large amount of points for their design to climb a rope and hit a touch pad in the last 30 seconds of the game. Our students worked hard at designing a robot that was capable of complete all tasks required.

At Hatboro-Horsham, we competed against 36 teams. This year's competition involved teams of 3 robots competing in 12 qualifying matches with randomly selected partner robots and randomly selected partnered opponents. After Qualifications, the top 8 teams then select 2 additional robots they want as partners to compete with in the finals.

During this selection, all top 8 teams send their captain out on to the playing field in order. The top rank gets first choice at picking their first partner team then 2nd, 3rd, and down to 8th. Then they go reverse order 8th picks their last partner and back up to 1st place getting last pick at remaining available teams. The 4th ranked team (2607 The Fighting RoboVikings) selected their first partner team 103 (Cybersonics) and on the way back through the picking process they picked our team (4285) as their 3rd partnering team.

As a group of 3 robots we competed in the Quarter finals against a group of 3 robots. The teams were given 45 mins to plan strategies and repair robots. Each of the final rounds are set up as best 2 out of 3 wins. We won our first two matches against our opponent group and advanced to the Semi-Finals, where the same group we had then competed against a new group of 3 robots in a best out of three. We then won our first match, lost second making a third match happen that we won advancing us into the finals.

In the finals, we competed against an alliance of 3 robots again one of which contained the defending champions for the past 5 years. During this match, our robot and one of the partner robots had difficulties and we lost. The next match things were evened out and we tied. However the rules state has to have a winner, so the match didn't count. We then won the Third match moving us to a tie breaker Final. We won the tie breaker by 5 points.

A special thank you to all of our sponsors for helping us financially. Special thanks to Wayne County Community Foundation for your support and Boyce Products for working with our students at your facility, sharing knowledge and giving them the experience of creating ideas and making them with your newest technologies in CNC capabilities.