Lady Hornets christen new courts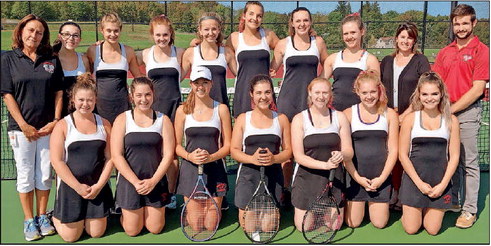 The Lady Hornets are coming off a rough season on the Lackawanna League varsity tennis scene.
Honesdale struggled to a 3-11 record last fall in a loaded Class AA division which was once again ruled by Scranton Prep.
The Classics cruised to a 13-1 record, then defeated Wallenpaupack Area for the all-season crown before winning yet another District Two team title.
This season, though, the Red & Black have constructed a brand new foundation upon which to build a winning program.
Wayne Highlands School District officials made a considerable investment in re-building the tennis facility. They also named a brand new head coach in Kim Rickard.
"The girls are very excited to be playing here on our new courts," she said. "We had a chance to practice on it yesterday and now it's time to get out there and play."
Sadly, this home debut didn't go as local fans may had hoped. The Lady Hornets turned in a solid all-round effort, but suffered a 5-0 shutout at the hands of North Pocono.
With this loss, the Red & Black saw their regular season record fall to 2-4.
Weather permitting, the local lasses will be back in action Wednesday on the road at Mid Valley.
Leadership
Honesdale will look to cocaptains Madison Palmer and Megan Rembish for leadership this fall.
Palmer is the team's lone senior. She holds down the second singles spot and has been a member of the varsity squad for three years now.
"Madison has been a very good leader," said Coach Rickard. "She has a really positive attitude. Madison is always moving. She has a strong forehand and a steady backhand, too."
Rembish is a junior who cracked the starting line-up last fall and rapidly climbed the varsity ladder. She is Honesdale's number one singles player for 2017.
"Megan has a lot of experience," Coach Rickard said. "She's a very good baseliner who hits the ball extremely hard. Megan has
a strong all-round game."
Rounding out the Lady Hornets' starting line-up this fall is Leigha Welsh. The talented, hard-working sophomore holds down the third singles spot.
"Leigha has a great future," Coach Rickard said. "She just picked up tennis last year as a freshman. Leigha has worked really hard to get where she is and she's getting better everyday."
Tough Loss
North Pocono rolled into the Maple City Monday as one of the area's top girls tennis teams.
Under the direction of veteran head coach Liza Lewis, the Trojans won 11 matches and earned a spot in the District Two Class AAA team tournament.
This year, the Moscow lasses are picking up right where they left off, having suffered just one loss to perennial league and district powerhouse Abington.
"We're off to a very good start," Coach Lewis
said. "We know that Honesdale is pretty young, but they have some good players and we're definitely not looking past them."
As it turned out, the Trojans dominated this one from start to finish, sweeping all five matches without dropping a set.
Sarah Tofilska got things going with a staright set (6-0, 6-1) win over Rembish at first singles.
Sarah Sposito was every bit as impressive at second singles, rolling to a 6-1, 6-0 victory against Palmer.
Haley Zemek closed out the singles sweep with a 6-1, 6-2 win over Welsh at number three.
North Pocono also swept the doubles matches.
Megan Carney & Devyan Davis defeated Kerry Rodriguez & Lydia Grossman (6-2, 6-1), while Tiana MacRarey & Ashley Dunn downed Ali Miszler & Kelly Varcoe (6-0, 7-5).
Looking Ahead
Honesdale is in rebuild mode this fall, but there's a palpable aura of excitement around the program with a shiny new facility and an enthusiastic new mentor.
"My main goals this season are to improve on last year's record and grow the program," said Coach Rickard. "This is such a great group of girls on aond off the court. They're working hard every day and trying to get better."
The Lady Hornets already own a pair of wins in Lackawanna League action, having defeated West Scranton (4-1) and Montrose (4-1) "We lost to Montrose last year, so to come right back and beat them this year is a nice accomplishment," said Coach Rickard.
Rembish, Grossman and Welsh swept the singles matches in that one, while the doubles teams of Kelly Varcoe and Taylor Maxson also prevailed.
One of the highlights still to come on the schedule is a Senior Day showdown with Scranton Prep, which is set for Wednesday, Sept. 27.
Net action gets underway at 4 p.m. at the Daniel J. O'Neill Sports Complex.
There will be a ceremony honoring senior players and their parents just before the start of the match.
Article Courtesy of:
Kevin Edwards
The Wayne Indepedent