Wayne Highlands Middle School to Stage Guys and Dolls!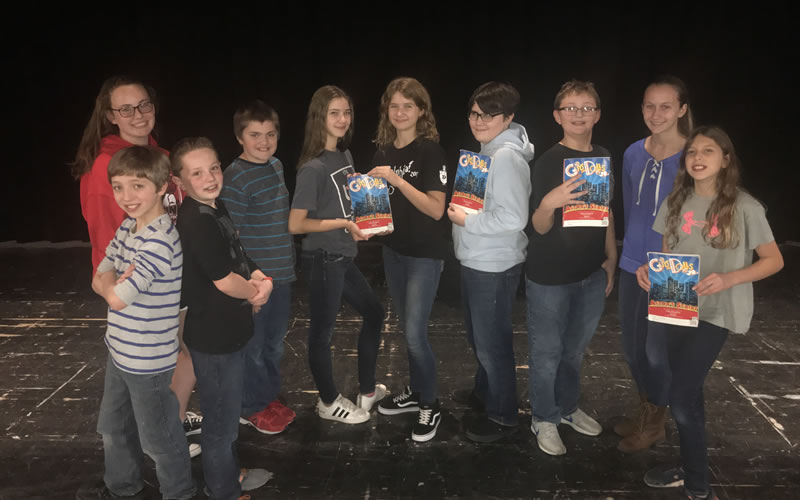 SCORES OF 'GUYS AND DOLLS' FROM WAYNE HIGHLANDS MIDDLE SCHOOL
ASK 'LUCK [TO] BE A LADY TONIGHT' AND HEAR 'ADELAIDE'S LAMENT' AT BROADWAY
JUNIOR PERFORMANCE ON NOVEMBER 17 & 18, 2017 IN HONESDALE
Cast and Crew Will Be Recognized on Opening Night with Honor Created by Representatives for GUYS AND DOLLS Writers Frank Loesser, Jo Swerling and Abe Burrows
Wayne Highlands Middle School is joining the schools across America and rolling the dice with a production of GUYS AND DOLLS JUNIOR, taking the classic concept of "let's put on a show" and reaching new academic heights through a program titled, "The Broadway Junior Collection®," it was announced today by Tim McDonald, project director of Broadway Junior, a division of Music Theatre International that abridges classic Broadway musicals into special editions for ages 8-14 to perform.
To celebrate the accomplishments of "a bushel and a peck" of students involved in the production, on opening night, Wayne Highlands Middle School will receive a certificate signed by representatives for Jo Swerling and Abe Burrows (who wrote the book to the show) and Frank Loesser (music and lyrics) commending the cast on their successful production of GUYS AND DOLLS JUNIOR and encouraging them to continue to embrace the arts in the future.
"From the first rehearsal the students have really collaborated to present a convincing picture of New York in the 1940s complete with realistic depictions of the people who inhabited it – from gamblers and frustrated lovers, to the crusaders trying to cleanse their souls – through music. We think they deserve a standing ovation from the community for all their work," says McDonald. "Broadway Junior would like to join GUYS AND DOLLS JUNIOR's creators in applauding the unique ways that each student has contributed to the show, from performing to designing props, lights and scenery to assistant directing and working backstage," he adds.
Wayne Highlands Middle School will present the Broadway Junior Production GUYS AND DOLLS JUNIOR on Friday, November 17 and Saturday, November 18 at 7:00 P.M. at Honesdale High School Performing Arts Center at 459 Terrace Street, Honesdale. For more information on the show please call (570) 251-9831 or visit our website at https://www.honesdalepac.com.
Considered by many to be the perfect musical comedy, GUYS AND DOLLS – and now the JUNIOR version – follows Salvation Army crusaders and high rollers from the streets of Times Square to Havana and back again. Permanently-engaged Nathan Detroit (to psychosomatic showgirl Miss Adelaide) will be forced to fold Detroit's Oldest Established Permanent Floating Crap Game unless he wins a bet from slick high roller Sky Masterson. When Sky gambles that he can woo any "doll," Nathan counters that Sky will not be able to convince an up-right but up-tight missionary named Sarah to go to Havana with him. Sarah finds the rakish Sky very resistible at first, but eventually melts and accompanies him to Cuba. Sky wins the bet, but Sarah wins his heart. Upon Sky's return to New York, he takes a gamble and recruits the members of the rolling craps game gambles to go to the mission. He rolls all the right numbers, as the gamblers repent and the Dolls gets the Guys of their dreams.
The Wayne Highlands cast of "Guys and Dolls Jr." includes Nathan Detroit, played by Steve Vitale; Miss Adelaide played by Rochelle Keast; Sky Masterson, played by Calvin Feustel; Sarah Brown, played by Maria Kannebecker; Grandmother Abernathy, played by Anna Dunsinger; Nicely-nicely Johnson, played by Seth Buckwalter; General Cartwright, played by Olivia Tagle; Penny Southstreet, played by Lexi Pinto; Rusty Charlie, played by Dominic Miller; Lt. Brannigan, played by Jackson Landers; Harry The Horse, played by Ethan Tackitt; Big Jule, played by Caleb Dodson, Lookout, played by Cheyenne Rickard; Mimi, played by Brianna Taninies; Agatha, played by Brooklyn Moody; Bertha, played by Amaya Hall; Calvin, played by Kayla Ammann; and Martha, played by Haylei Jones.
The company ensemble also includes Angelica Dyer, Nicole Eldridge, Lucy Harrington, Elizabeth Hernandez, Skye Skinner, Zoey Sollers-Fagan, James Manoy, Karli Rowles, Alemina Selimovic, Hayley Mansfield, Anne Meagher, Hannah Merritt, Sawyer Palmer, Ava Slish, Olivia Slish, Brianna Taninies, Brooklyn Moody, Amaya Hall, Olivia Tagle, Alexis Batzel, Leanndra Bloxham, Rebecca Dadig, Kyra Fay, Lindsey Gannon, Cosette Gombita, Alison Green, Zoey Hessling, Savannah Hocking, Rachel Keesler, Shae Levanowitz, Jillian Penn, Isabella Ramirez, Madisyn Roegner, Kari Stiteler, Hailey Tyler, and Annabelle Wengler.
The production is directed by Scott D. Miller; choreographed by Jesse Perry; music direction by Martha Curtis and Geri Spinosa; technical direction by Shawn Garing and Nick Slish; set designs by Jason Smith and Brittany Cardona; costume design by Linda Zimmer; prop master Meredith Galinkski; and hair and makeup design by Linda Forlenza. The production also includes upper classmen student assistant directors Melody Feustel, Brooke Landers, Kallie Lazaro, and Alyssa Stumpo; assistant student choreographer Kayleigh Pugh; costumer Emily Roberts; and stage managers Justin Gombita and Kyle Castellano.
Performances will take place November 17-18, 2017, at Honesdale High School Performing Arts Center. Shows will take place at 7:00 p.m. on Friday and Saturday. All tickets are Regular $8, Senior (+62) $7, Student $5, Children (3-5) $4, Red/Black Pass members are welcome to the show complimentary. For information, directions, and to charge tickets by phone call 570-251-9831. Tickets are on sale online at https://www.honesdalepac.com.