Members of the Hornets' class of 2017 received their diplomas Saturday afternoon, waving goodbye to their district as they marched proudly across the commencement stage.
Post procession and National Anthem recitation – sung by the Senior Vocal Ensemble – Class President Nichole Freiermuth led the ceremony's student speakers with a speech reflecting on the the positive effects of people in one's life.
"Those who you surround yourself with have a huge impact on your attitude and your view of the world," said Freiermuth.
She noted how positive an effect the numerous influences from faculty and fellow students at Honesdale had.
"I encourage not only the students at Honesdale High School, but everyone standing before me to be the reason someone believes in the goodness of people."
Freiermuth concluded, "Class of 2017, let's continue to strive for greatness, it's the end of one chapter and the beginning of a new one.
"Life may get tougher, but so will we."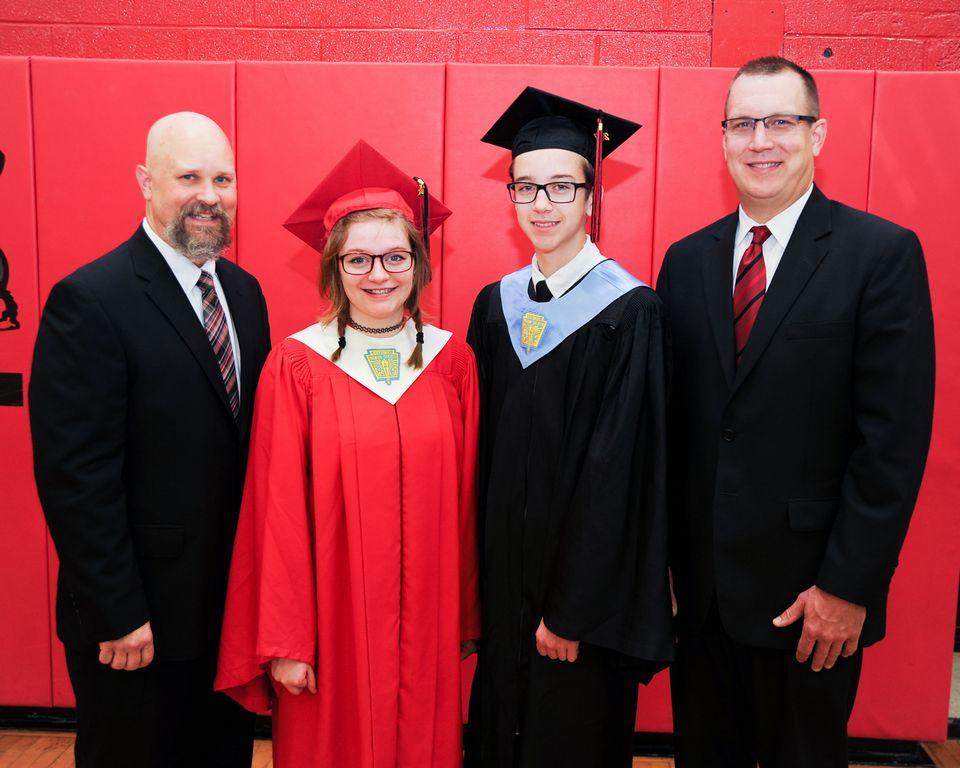 Salutatorian Emily Ritter followed with words of encouragement.
"Today is the day to be proud of yourself and take a deep breath after, more or less, thirteen years of schooling ... We did it!"
Ritter advised the class on a few vital characteristics to carry forward in life.
She mentioned the importance of having passions to guide one's advancement: "When you know what you like to do, you can start figuring out what you might want to do with your life."
She cited individuality as vital to creative development.
"Varying ideas and personalities can come together and create something new and brilliant," she said.
Lastly, she bid her classmates maintain a degree of empathy in their lives to come: "For your whole life, you will have to deal with people, if you can't identify with their feelings you can't build friendships or relationships."
Valedictorian Christian Kowalczyk delivered a jocular speech highlighting what he thought were the many benefits students' received by living in Honesdale.
"Now as we graduate, we will leave HHS and the comfort zone we have grown accustomed to over the years.
"I'm not saying this to scare you, however, because now we have so many experiences from living in the area that will help to guide us.
"We have a solid foundation beneath us. We have become curious, intelligent and sociable upon our journey.
"Wherever your path takes you, you can, with confidence, know that you have firmly planted roots and can go anywhere and can accomplish anything."
In delivering his address to the graduates, Superintendent Greg Frigoletto challenged them all to "... embrace the changes in your world. I encourage you to be cutting-edge and forward-thinking ...
At the same time, however, I encourage you to see the value of stopping and thinking."
Addressing the room, Principal Chris Pietraszewski announced that the class in total received nearly $4 million dollars in scholarships and awards from colleges.
He also stated the graduates received almost $125,000 in local and regional awards.
Pietraszewski mentioned a few special award recipients.
First was Emily DeCrotie, who received the Kristina Sue Adams Memorial Scholarship.
Second was Emily Ritter who received the Anna R. and Walter Schoyer Scholarship.
Third was Christian Kowalczyk who received the Ernest W. Lemnitzer Memorial Scholarship Award.
Of the 195 students in the graduating class, six graduated cum laude, – a GPA of 3.67 to 3.82 – thirteen graduated magna cum laude – a GPA of 3.83 to 3.99 – and fourteen graduated summa cum laude – a GPA of 4.0 and greater.
Also notable this year, students entering into military service were allowed to wear sashes denoting their branch atop their robes.
While only those sent by the National Guard were received by graduation, HHS has twelve graduates entering into military service this year.
Watch the entire graduation ceremony on our YouTube Channel below.
Article Courtesy of
The Wayne Independent
By David Mazzenga