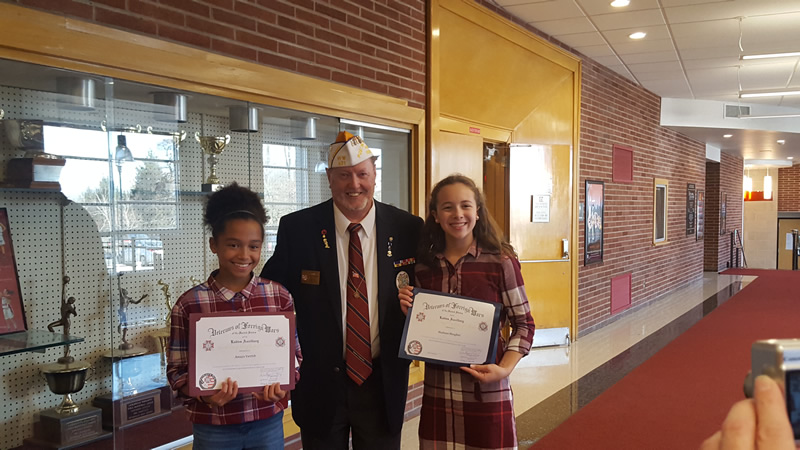 The Wayne Highlands Middle School honored local veterans during their November 10th Veterans Day Assembly. The middle school band played patriotic music as hometown veterans were escorted by their family members into the High School auditorium.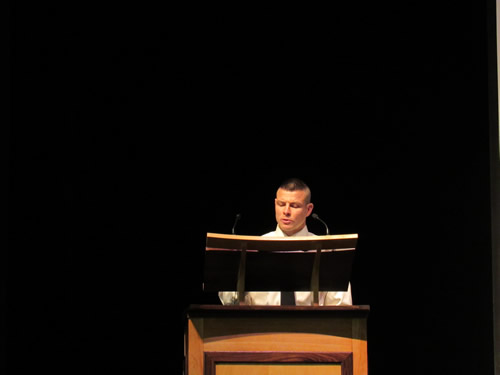 This year's guest speaker was 2002 HHS graduate Mr. Chad Schuman.Mr. Schuman served nine years with the 1st Battalion of 109th Infantry Regiment, including serving two tours in Iraq in Support of Operation Iraqi Freedom.Also, he earned an Associate's Degree in Automotive Technology from Johnson College.Currently, Mr. Schuman is employed by SCI Waymart as a Correctional Officer and is also the WHMS Junior High Wrestling coach.He has been married for ten years to his wife Suzanne, a special education teacher at HHS, and they have three children Dominick, Lucas, and Nathan.Mr. Schuman reflected on his time in the service and reminded the student body of the importance of respecting our brave veterans who fought for our rights and liberties.
During this November 10th assembly, Phil Sheehan of the local VFW introduced the winner and runner-up of the Patriot's Pen Essay Contest.The students at the Wayne Highlands Middle School participate in this Veterans of Foreign Wars Patriot's Pen Youth Essay Competition.This essay competition, conducted nationwide, gives 6th, 7th, and 8th-grade students an opportunity to write essays about a different patriotic theme each year.Last year, 120,000 students participated nationwide.The first-place national winner receives $5,000 and an all-expense paid trip to Washington, D.C.The 2017 theme is "America's Gift to my Generation." Each Wayne Highlands Middle School student wrote an essay to enter the contest, and one student was chosen as a winner.
This year's WHMS winner is Madison Meagher.Her essay will advance to the regional level of competition, where one first-place winner will advance to the state level. Winning at the local level, Madison received a $100 from the local VFW post.Madison is a 7th grader at the Wayne Highlands Middle School, where she is on the WHMS Junior High girls' soccer team, basketball team, and track and field team.Also, she enjoys playing the percussion in the WHMS concert band and jazz band.
Seventh-grader Amaya Yarrish was the runner-up, and she received $25 from the local VFW post.
Phil Sheehan announced both winners, and the girls then read their essays to the audience.
The reverent assembly concluded with the Girls Ensemble performing patriotic songs, Dave Wacker explained POW-MIA Table of the Unknown Soldier, and then "Taps" was played.