Students perform at music fest
Students from the Wayne Highlands Middle School recently assembled on stage at Delaware Valley for the annual Pennsylvania Music Educators Association (PMEA) Middle Grades Chorus and Band festival.
The festival functions as a way to kick-start the musical careers of students by introducing them to a simplified version of the PMEA Band, Orchestra and Chorus events held at the high school level, said Wayne Highlands Chorus Director Martha Curtis.
For many of the students, Curtis said, it's the first experience of its kind. "They get excited about making music with other kids," she said.
Differing slightly from PMEA's high school festivals, Middle Grades is a single day of activities consisting of morning and afternoon rehearsals followed by a choral concert and a band concert.
For seventh-grade soprano Maria Kannebecker, this year was her first time performing. She described the experience as "really fun," adding her favorite song to perform was "Flanders Fields."
"I think it sounds pretty," she said. "It's got a lot of soprano notes in it and I just like the way it sounds."
Twenty-seven Wayne Highlands students participated at the festival.
The students singing in the chorus were Brooke Landers, Kaitlyn DeFazio, Abby Skelton, Maria Kannebecker, Katy Corcoran, Brianna Taininies, Mia Land, Ally Weber-Gump, Kaiden Robinson, Emily Johannes, Veara Kolhagen, Calvin Feustel, Kaeleb Jones, Gibby Goodenough, Cody Stanton and Jake Eagan.
The students playing in the band were Rachel Daub on flute; Taylor Warring on clarinet; Shannon O'Day on alto saxophone; John Rodriguez, Connor Coar and Noah Theobald on trumpet; Christina Stein and Sam Hopkins on trombone; Caleb Lavelle on tuba; Alyssa Stumpo on mallet percussion; and Mia Yatwa on percussion.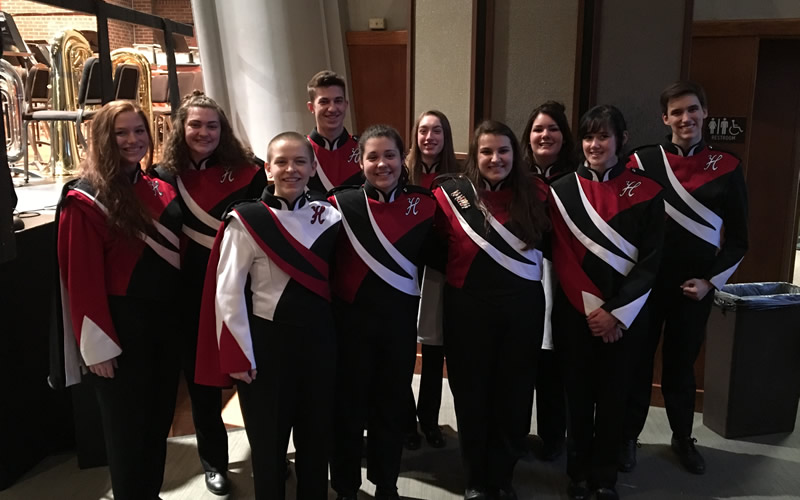 Marywood festivals
Students from Wayne Highlands School District were also a part of the Marywood Junior and Senior High Wind Band Celebrations held recently. "The Marywood festivals are another opportunity to be able to get more students involved," said high school instrumental instructor BettyAnn Robson.
The Marywood festivals excite students "so that they'll work harder and want to participate in the more competitive things that are involved in districts and regionals," said Robson.
Trombone player Abbi Ward said the event was especially fun because it allowed her to be an environment "where everybody cared about what they were doing."
Her favorite song was "Jungle Dance" which she described as "very interactive." It included a segment where the whole band clapped in unison, she explained.
"We had very diverse music," Ward said, "so it was good to expand our artistry."
Ward also played trombone at PMEA District Band in early February.
Other participants were Ella Bruford, Lindsay Daub, Emily DeCrotie, Jason Demers, Danielle Eifert, Angelea Francesco, Michael Kirk, Faith Lawson, Jenna Mohn, Maggie Murphy, Madison Palmer, Lora Protzman, Alex Reed, Kayla Taninies, Tessa Vendetti, Maya Wehrmann and Victoria Wormuth.
Article Courtesy of:
David Mazzenga
For The Wayne Independent