Local lads dazzle on links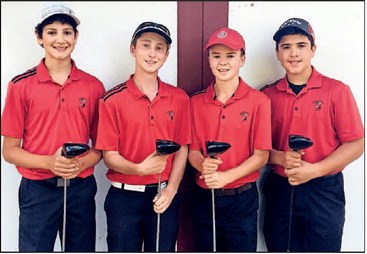 It's been an exciting season for local high school golf fans, a fact that was reinforced by an electrifying performance at the 2017 pre-district tournament qualifier.
This year's edition of the event was held at Elmhurst Country Club and featured Honesdale High School Area golfers making the cut.
Honesdale was very impressive at pre-districts. While the Hornets don't boast an individual champion, they did qualify four golfers for D2 field.
Ben Williams, Luke Flederbach, Cole Bannan and Max Land all made the cut this season.
Williams paced the Red & Black attack, carding an 84 and qualifying for the second straight year.
"All four of them played well and I'm proud of them," Honesdale Coach Mike Miller said. "We've got a real shot at having one or two kids move on. First and foremost, though, I want them to enjoy the whole experience."
The 2017 District Two individual tournament is scheduled for Monday, Oct. 2 at Fox Hill. Action gets underway at 9 a.m.

"I couldn't be happier," Coach Miller said. "These are such good kids. They work so hard and all that work is starting to pay off."
Williams and Flederbach are both making a return appearance at the event and each is hoping to move on this time around.
Ben shot 90 at districts last fall, missing the cut for states. He appears dialed in this year, though, having carded an 84 at Elmhurst.
"Ben has the utmost confidence in everything he does," Coach Miller said. "He believes in himself and just can't wait to get out there and get the job done."
Flederbach also made the D2 field in 2016, but came up seven strokes short of an invitation to states. This time around, Luke also seems to be right on his game after shooting an 87 at pre-districts.
"Luke excels at all facets of the game," Coach Miller said. "He works hard and has the ability to focus on one shot at a time."
Bannan and Land each closed out regulation with a score of 88. This placed them in a six-way playoff for the final four spots.
Cole used his length off the tee and radar lock with his short irons to secure a place after the first extra hole.
"Cole really hits the ball a long way," Coach Miller said. "It gets him into trouble sometimes, but what saves him is his outstanding touch around the greens. Cole has excellent hand-eye coordination."
Land needed one more hole to qualify, but he responded well to the pressure. With 30 players and coaches looking on, Max birdied the second extra hole to seize one of the final slots.
"Max Land has the prettiest swing on the whole team," Coach Miller said. "All he needed was a little bit of confidence … and, boy did he get that with such a clutch birdie."
Article Courtesy of:
Kevin Edwards
The Wayne Independent