Lady Hornets Field Hockey refuse to back down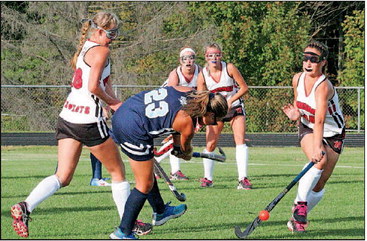 Honesdale's Heaven Houck (#14) and Leah Jay (#28) put the clamps on this Wyoming Seminary player during WVC action Wednesday afternoon. The Lady Hornets played what Coach Carly Propst called "our best game of the year so far," but came out on the short end of a 3-1 final.


HONESDALE — Carly Propst was a bit concerned about her team heading into Wednesday's contest.
Honesdale's rookie head coach knew her young squad hadn't put together a full game yet in 2016.
And, on this particular afternoon perennial PIAA powerhouse Wyoming Seminary was in town for a WVC showdown.
Toe-to-toe
On paper, it looked like a tantalizing match-up: the unbeaten Knights (4-0-0) versus a Lady Hornet team (3-1-0) on the rise.
However, just a quick glance at Sem's dazzling program resume is enough to strike fear in the heart.
Seventeen undefeated seasons. Twenty-seven appearances in the District Two tournament. Six Class AA crowns and six state championships.
"My goodness, Wyoming Seminary has a fantastic program," Coach Propst said. "And, they've been winning big so far this year. I think it's important not to let yourself be intimidated by them..."
To their eternal credit, the local lasses didn't show even a hint of intimidation.
Honesdale went toe-to-toe with the Knights and gave the a match they won't soon forget. The Lady Hornets battled the visitors to a 1-1 halftime tie, but then ran out of gas en route to a 3-1 setback.
Despite the loss, Coach Propst was brimming with praise for her girls.
"This was by far the best we've played this season," she said."We've been coming out a little bit flat most of the time, but then playing really well in the second half. Today, though, the girls came out strong right from the start."
Next up for the Red & Black is a Friday road trip to Plymouth for a clash with Valley West, followed by a home match with Abington Heights on Monday.
Action gets underway at 4:15 p.m. on both days.
Early energy
Honesdale made several adjustments heading into Wednesday's match.
Coach Propst deployed a more defensive-oriented formation with an eye toward neutralizing Sem's high octane attack. The strategy worked to perfection in the opening half as the Lady Hornets and Knights fought their way to a 1-1 stalemate.
"I think the most important thing for us to take away from today is the hustle," Coach Propst said.
"The girls never stopped fighting and they never gave up. They gave me 60 minutes of hockey and I'm very proud of them."
After a slow start, Sem ratcheted up the pressure and peppered Honesdale's cage with shots. However, junior keeper Brianna Potter was equal to the task.
Potter stood tall in the face of the Knights' assault. She racked up 15 saves and earned high marks from Coach Propst.
"Brianna Potter is going to be one of the best goalies Honesdale has ever seen," Coach Propst said.
"She's so aggressive back there. She is fearless. She's not afraid to come out and attack the ball. And, she's just going to get better."
Sem finally managed to get on the board with just over 15 minutes remaining in the first half. Freshman forward Alex Wesneski took a pass from teammate Aubey Mytych and blasted it by a sprawling Potter.
However, the Lady Hornets didn't hang their heads…they fought back.
Almost exactly two minutes later, Ally Meyer rattled the Knights cage with a shot courtesy of Jackie Martin's pass.
"That's exactly why we have Ally there on the goalie's pads," said Coach Propst. "She does a phenomenal job. Ally just swept the ball right in."
Counterattack
Everyone in the stands and on the field knew that Sem would come out fired up after intermission.
And, that's exactly what happened. The Knights dialed up the offensive pressure even more, finally breaking through with 14 minutes left in regulation.
The visitors added an insurance goal at the 12:17 mark, effectively putting the game out of reach.
Honesdale tried its level best to mount one last counterattack. Try as they might, though, the Red & Black just couldn't hammer another shot home.
Senior keeper Alexis Sokach stopped several late shots and turned away a pair of penalty corners to preserve the win.
While offensive firepower was tough to find against such a formidable opponent, Coach Propst was quick to praise Mandy Gunuskey.
The talented freshman rose to the occasion versus Wyoming Seminary. "Mandy just played a fantastic game today," said Coach Propst. "Sometimes as a freshman you tend to hold back a little bit, but Mandy absolutely didn't. She really stepped up."
Honesdale's Clayre Smith turned in a solid effort as well. The Lady Hornet senior was hounded by Seminary double teams all match long.
"Clayre has a target on her back and she knows it,"Coach Propst said. "I know one thing though: She's going to come back strong on Friday."
Score by Half...
HON (3-2-0) 1 0 — 1 SEM (5-0-0) 1 2 — 3
At a Glance...
■ Honesdale's varsity field hockey team turned in a stellar effort Wednesday afternoon in WVC action.
■ A scrappy Lady Hornet squad gave perennial PIAA powerhouse Wyoming Seminary all it could handle before falling, 3-1.
■ Coach Carly Propst's squad battled Sem to a 1-1 tie at intermission before allowing two second half goals in a span of 1:43.
■ Next up for the Red & Black is a Saturday road trip to Plymouth for a battle with Valley West.
Courtesy The Wayne Independent
By Kevin Edwards
Group Sports Editor