Lady Hornets Tennis set for net debut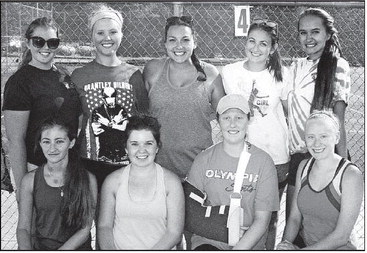 Weather permitting, Honesdale's Lackawanna League girls varsity tennis season was scheduled to get underway Thursday afternoon. The Lady Hornets were slated for an away match versus Holy Cross at the University of Scranton. Coach Travis Moyer's squad will make its home debut Monday against Delaware Valley. Pictured here are (first row, from left): Hannah Marin, Anna Christiansen, Karli Martin and Kayla Rembish. Second row: Joanna DiBenedetto, Olivia Watson, Brooke Mazzotta, Karly Mander and Paige Bidwell. TWI SPORTS PHOTO BY KEVIN EDWARDS

By Kevin Edwards
Courtest of the Wayne Independent - Group Sports Editor
HONESDALE — The 2016 Lackawanna League girls varsity tennis season was supposed to start on Tuesday, but Honesdale's debut was put on hold due to unforeseen circumstances Elk Lake, which has struggled with numbers in recent years, folded its program on the eve of the league opener.
This meant that the Lady Hornets had a few more days of practice before hitting the court for the first time on Thursday.
"I'mactuallykindofhappy that the first match was cancelled," second year Head Coach Travis Moyer said. "It gives us a little bit longer to ironoutourstartingline-up."
Stage set
Honesdale battled its way to a 7-8 record last year in the Lackawanna League.
The Lady Hornets finished tied for sixth with Dunmore in the Class AA standings.
This fall, with a roster featuring both battle-tested veterans and talented under classmen, Coach Moyer is expecting significant improvement and possibly even a post season berth.
"I'mveryexcited,"hesaid. "We should definitely be .500 or better. This is a phenomenal group of young ladies and I'm excited to see what they can do."
Weather permitting, the Red & Black were slated to open up their season with an away match against Holy Cross at the University of Scranton on Thursday, The local lasses would then make their home debut Monday afternoon versus Delaware Valley. Net action starts at 4 p.m. at the Daniel J. O'Neill Sports Complex.
Leadership
The future is looking bright for Honesdale's girls tennis program, as evidenced by the fact that there are nearly 30 girls on the combined varsity and JV rosters this fall.
"I'm very pleased with the turnout," Coach Moyer said. "It's a senior-laden group, but we have quite a few talented youngsters as well. It's a nice mixture."
Any conversation about thisyear'svarsitysquadmust begin with its leaders.
Kayla Rembish, Anna Christiansen and Karli Martin will be serving as tri-captains for 2016.
Rembish and Christiansen will team up at first doubles. Both are seniors and each brings something special to the tennis court.
This dynamic duo enjoyed a solid season in 2015, advancing all the way to the District Two Class AA quarters before finally being eliminated by a team from Wyoming Seminary.
"Kayla and Anna have a great deal of chemistry," said Coach Moyer. "They have been playing together for a long time and their styles complement one another very well."
Martin is a multi-sport standout who also excels on the basketball court.
Karli teamed up with Karly Mander last fall at second doubles. She's nursing an injury at the moment, but hasn't let that impact her contributions to this year's team.
"Karli is an excellent leader on and off the court," Coach Moyer said. "She's been here every day even though she's hurt. Karli sets a very good example for all the younger players and we hope to have her back in action before too long."
Up front
Honesdale's to three players boast a great deal of experience and talent, which bodes well for the Lady Hornets this fall.
Senior Paige Bidwell gets the nod at #1 singles. A senior who is looking for success at both the league and district level.
"Paige has a great attitude and work ethic," said Coach Moyer. "She covers the court really well and has excellent footwork. Paige never gives up on a point."
Karly Mander, another member of a talented senior class, has earned the second singles post.
Mander is making the transition from doubles to singles thisfallandHonesdale'sstaff is excited at the possibilities.
"She can be a difference maker," Coach Moyer said. "Karly is big and strong and she has a powerful serve. We're expecting big things from her this season."
Megan Rembish in the lone underclassman to have cracked the starting line-up to this point. A sophomore who's in just her first year of organized tennis, Rembish has carved out a niche at #3 singles.
"Megan working really hard during the summer," Coach Moyer said. "She's a talented kid and we think she has a bright future."
By the numbers
There's currently at least a three-way battle going on for the final two spots in the varsity line-up.
Brooke Mazzotta (Sr), Joanna DiBenedetto (Sr) and Madison Palmer (Jr) are locked in a duel for the second doubles pairing.
"It's very close right now," Coach Moyer said. "Any one of those girls may get the start. But, I think that competition is a good thing. They're all pushing one another to get better."
No matter what the final starting line-up looks like, Honesdale will have its hands full in an always rugged Lackawanna League Abington Heights is the odds-on favorite to capture the Division I title, with Wallenpaupack Area and North Pocono nipping at the Comets' tail.
In Division II, Scranton Prep is once again the team to beat. However, Valley View and a young Western Wayne squad are in the hunt as well.
"This group is very tightly-knit," Coach Moyer said. "They're hard-working and dedicated. I think we have a great deal of potential this season and the next couple of years."
At a Glance...
■ Honesdale's girls varsity tennis team is set to make a run at a playoff spot this year in Class AA.
■ The Lady Hornets battled their way to a 7-8 record last year in Division II of the Lackawanna League.
■ Under the direction of head coach Travis Moyer, the Red & Black are looking to take that next step up in the standings.
■ This year's Honesdale tricaptains are seniors Kayla Rembish, Anna Christiansen and Karli Martin.