Men's Soccer Building for the future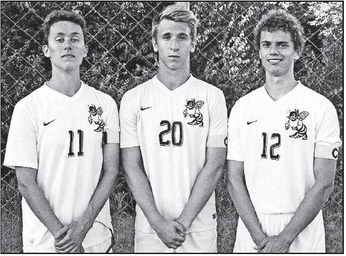 These three young men have been chosen to be captains for Honesdale's 2016 boys varsity soccer team. Seniors Derek Kirk, Eli Harvey and Austin Adams are already showing outstanding leadership skills, according to veteran head coach Geoff Fowler. The Hornets are 1-3-0 thus far in Lackawanna League action and are back on the pitch Saturday morning at Dunmore. TWI SPORTS PHOTO BY KEVIN EDWARDS
There's a serious youth movement afoot within the Honesdale boys soccer program.
When the Hornets headed out onto the pitch Thursday afternoon to play Delaware Valley in a key Lackawanna League match, there were four sophomores in the starting line-up.
In addition, several talented freshmen are pushing for playing time at the varsity level … which is a nice problem for veteran head coach Geoff Fowler to try and address.
"It really bodes well for us down the road," Coach Fowler said just moments after his young Hornets suffered a disappointing loss to the Warriors.
"We have some very good senior leadership this year; young men who've meant a lot to this program for the last four years. But, there's also a big group of youngsters coming up who represent the future … and it's really exciting."
On Thursday afternoon, battle-tested veterans and talented underclassmen combined to give Delaware Valley all it could handle.
While the Warriors did eventually carve out a 2-0 win, they left the Daniel J. O'Neill Sports Complex knowing they'd been in a battle.
"We gave it everything we had out there today, but we just came up a little bit short," Coach Fowler said. "Our boys played hard all match long and that's really all I can ask of them."
With this loss, the Red & Black fell to 1-3-0 on the regular season. Next up for Honesdale is a weekend road trip to Dunmore.
Action gets underway at 10 a.m. on Saturday.
Leadership
Three seniors will be looked to for leadership on and off the pitch this fall.
Derek Kirk, Eli Harvey and Austin Adams are all seniors and each has been asked to serve as a team captain for the Hornets.
"All three of these young men have been with the program for a long time," Coach Fowler said. "And, what separates them from some other groups is that they really take control.
"If they see that things are getting a little out of hand, they'll step right in. They take the reins and make sure we stay focused. Kirk is a center forward who spearheads the Red & Black offensive attack.
"What I like about Derek is that he's kind of a leader of leaders," Coach Fowler said. "Derek isn't afraid to take charge out there. He's aggressive and competitive. Harvey is in just his second season of varsity soccer and he plays center fullback. Eli uses his size and strength to "Eli started with us as a sophomore,but he' scaught on like wildfire," Coach Fowler said. "He's a big, strong kid who cleans up a lot of our mistakes. I'm very comfortable with Eli back there."
Adams spends most of his time on the left wing. Austin is a four-year member of the varsity team who brings intelligence and experience
to the pitch.
"We really try to utilize Austin's speed," said Coach Fowler. "He's quick and explosive and can make things happen."
On the pitch
Honesdale opened up its 2016 regular season with a 4-0 loss to Abington.
The Hornets rebounded quickly, though, hanging a 2-0 loss on West Scranton.
Coach Fowler's lads then absorbed back-to-back losses at the hands of Scranton and DV.
In Thursday's match, the Red & Black struggled to generate consistent offense as the Warriors dominated time of possession.
Hessel Stacken tallied the game's first goal. The junior striker hammered the ball home off an indirect kick with 18:21 gone in the opening half, giving DV a lead it never relinquished.
Then, 12:51 into the second half, the Warriors struck again. This time the goal came courtesy of junior forward David Grady, whose rocket like shot clipped the inside of the far post and caromed in.
All told, Delaware Valley out shot Honesdale by a margin of 15-4. The visitors also dominated in corners by a tally of 9-0.
Over & out
Honesdale's defense is anchored by Clay Martin.
The junior keeper made eight saves against DV and turned away all but one of the nine corners he faced.
Along the way, Martin made several highlight reel saves. Including among those was one in heavy traffic that he punched up and over the crossbar.
"Clay plays a great deal of soccer year-round," said Coach Fowler. "He's a smart kid who takes charge back there. Clay is an athletic kid who has the ability to make big saves."
Offensively, the Hornets Jake Van DeLinde has been battling knee issues early this season. However, the freshman striker seems to have a bright future.
"Jake is someone you'll be hearing about a great deal for the next few years," said Coach Fowler. "If he can stay healthy, Jake's going to be quite a prolific goal scorer for us."
So far this fall, Honesdale has received goals from Will Howell (Soph), Liam Carmody (Soph) and Dominic Amato (Fr).
"As I indicated, this is a very young group and I just hope we can handle the physicality over the course of along season,"Coach Fowler said. "So far we have and I think that's a good omen for the future."
Courtesy The Wayne Independent
By Kevin Edwards
Group Sports Editor