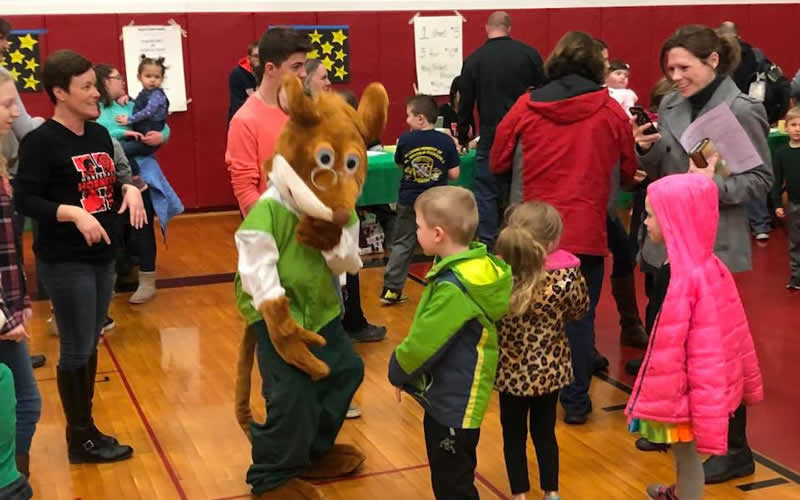 Lakeside Elementary School twinkled March 16, with its annual Night of 1,000 Reading Stars, the capstone event to the week-long Scholastic Book Fair.
Each year, the event proves to be an exciting and engaging night for youth in the community, explained Night of 1,000 Reading Stars Chairperson Donna Eisele.
She stated it's always a great time "... to come and hang out with family for a Friday eventing."
Attendees this year toatled between 350 and 400, Eisele estimated.
This year's Night of 1,000 Reading Stars saw 14 different stories read in stations dispersed throughout Lakeside Elementary.
Allotted ten minutes each, the stories were read, often with an accompanying performance, by individuals and representatives from various community organizations.
Attendees could visit up to six stations over the course of the night.
Compiled by reader organizer Holly Schneider, this year's storytellers included:
• Micki Lazar, reading "The Legend of Rock, Paper, Scissors;"
• Mollie Gearhart, with "Underwear!;"
• Heather, Spencer and Bowes of The Bodhi Tree reading "Where the Wild Things Are;"
• Tim Wright of the Stourbridge Line reading "The Caboose who go Loose;"
• Marci Jones and Amy Williams reading "Ted;"
• Dr. Kady of Sprout Dental reading "Alan's Big Scary Teeth;"
• Bob Carmody of RE/MAX Wayne, Honesdale, sharing "Dragons Love Tacos 2: the Sequel;"
• Mackenzie McGinnis reading "Let's Go for a Drive;"
• Betty Lawson and Tracy Schwarz of the Wayne County Public Library with "Have I Got a Book for You!;"
• Jenna Mauder of NaturED reading "Cloudy with a Chance of Meatballs;"
• Rebecca White and Monique Milleson of Anthill Farm reading "Chickerella;"
• John Streever of Rent-EQuip reading "Mighty Mighty Construction Site;"
• Jesse Perry of the Honesdale Dance Studio reading "Giraffes Can't Dance;"
• Katherine Brown and Alison Green Myers of the Highlights Foundation reading "After the Fall."
Additionally, Alison Green Myers and Dwight Smith, authors of "My Special Word," held a book sale and signing at the event.
"It's so cool that people from the community come and read to families," said Eisele.
Readers frequently dress up in costumes and bring props corresponding to their book selection, she added.
Noting the degree to which readers interact with their stories and their listeners via performative endeavors increases each year, Eisele said, "It's almost as if they're trying to one-up themselves every year."
The children are always excited by such inspired presentations, said Eisele, noting particularly favorites this year were "Ted," "The Legend of Rock, Paper, Scissors," and "Dragons love Tacos."
While admittance is free, attendees were able to buy raffle tickets for baskets compiled through donations from Stourbridge and Lakeside students as well as local businesses.
There were also refreshments available that night in the cafeteria.
For those who participate, the Night of 1,000 Reading Stars is "... just a fun night," said Eisele.
"It's nice to see everybody unplug for one night," she added.
Eisele noted, once the stories begin and the readers entertain their crowds, "... all families would enjoy it."
Those interested can look for the family-oriented reading event next March, following the Scholastic Book Fair.
Anyone interested in reading at or otherwise assisting with the event can contact Donna Eisele at dmjohannes@yahoo.com.
Event sponsors The following sponsored helped make this event possible:
• Auto Express Detailing
• Balance Gymnastics & Wellness Center
• Bee's Backyard
• Big Bear Ski Resort
• Circa Photo
• Costa's Family Fun Park
• Elegante Restaurant & Pizzeria
• Highhouse Energy
• Idle Hour Lanes
• Jerry Land Jewelers
• Jessica Rosas, Avon Consultant
• KC Pepper Bar & Grille
• Kim's Pub & Grub
• Mattress Firm
• Max Deli
• Mohegan Sun Arena
• Mustard Seed Cafe
• Rustic Farmworks
• Silver Birches Resort
• St. Clair Graphics
• The Stourbridge Line Train Excursions
• VIP Kidz Club
• Warehouse 51
• Wayne Bank
• Woodloch Pines Resort