Seniors recognized for achievements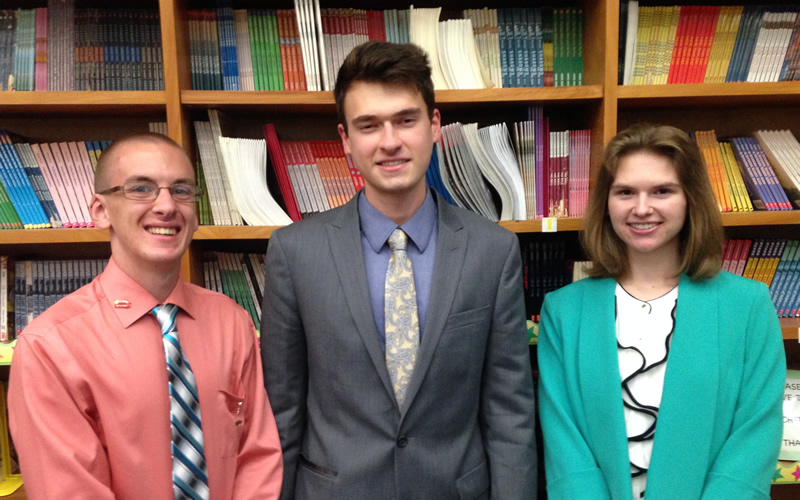 A trio of stellar seniors were recognized during the monthly meeting of the Wayne Highlands School Board.
William Bekanich, son of Daniel and Nicole Bennett of Starlight, is in the top five percent of his class.
William was a member of the freshmen basketball team, a five year member of the Track & Field team and earned the Most Improved Runner award for Cross Country. He participated in the American Mathematics Contest, the Marywood Math Contest and the Robotics Club.
William placed first in both the Pennsylvania Junior Academy of Science (PJAS) regional and state competitions.
He is a member of the Future Business Leaders of America (FBLA), Envirothon and functions as the Student Council Member at Large/Homeroom Representative/ Treasurer. William also participated in the Junior Leadership Northern Poconos program and has earned a place on both the Honor Roll and National Honor Society.
He plans to attend a four year college and pursue a dual major in criminal justice and physical engineering. Williams hopes to someday become a federal agent.
Lacy Foster is the daughter of Thomas and Diana Foster of Lakewood.
Also in the top five percent of her class, she has been a peer tutor, a member of the tennis team and is a Reading Competition Team Member. She is the president of FBLA and placed eighth in the State Future Business Leader Competition.
Lacy also had perfect attendance for grades 9 – 11.
Lacy is also on the Honor Roll and the National Honor Society.
She plans to pursue an education in psychology and chemistry at a fouryear university.
Susquehanna resident Nicholas Haynes, son of William and Barbara Haynes, is in the top 15 percent of his class.
He was a member of the Jr. High Track Team and lettered in varsity tennis.
Nicholas also wrote a research paper on Alzheimer's disease that was published in Teen Ink Magazine. He also co-founded the Umbrella Academy, a learning/ public speaking organization based in Owego, New York.
Also a member of the National Honor Society and Honor roll, he created OurStoryPlus.com a website dedicated to true health. He hopes to attend the University of Rochester as a pre-med student.
Article by The Wayne Independent Writers