Hornet cagers honored at banquet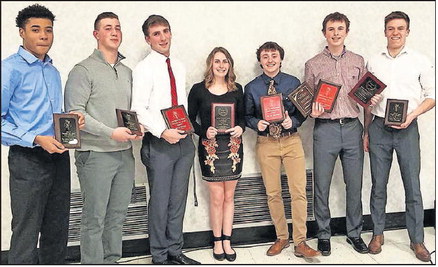 It was a tale of two very different halves this season for Honesdale's boys varsity basketball team.
The Hornets rocketed out to an 8-3 start, highlighted by another championship at the Finan Memorial Tournament. Unfortunately for local fans, though, things went south for the Red & Black after that.
Coach Tim Wood's squad went just 3-8 down the stretch, finishing with an 11-11 overall record and didn't earn a spot at the district tournament.
"It was kind of an up and down season that's for sure," he said. "We obviously struggled in the second half, but the good thing was that we were competitive in just about every one of those games.
"This team had great chemistry in good times and bad. It was a pleasure coaching these kids."
On Sunday evening, the 2017-18 season officially came to a close as hundreds of fans packed the high school cafeteria for the Honesdale Friends of Basketball banquet.
Awards Time
Varsity, junior varsity, freshman and junior high teams were honored at this year's event.
Among those individual players feted for their accomplishments during the 2017-18 campaign were six hard-working, talented young men who provided local fans with countless memorable moments.
First up is sophomore Chris Cespedes. A transfer student who gradually became a big part of the Red & Black attack this year, Cespedes was named the varsity squad's Most Improved Player.
"Chris is a very talented athlete," Coach Wood said. "He worked hard to pick up our offensive sets and the way we do things here. Chris really became a significant contributor by the end
of the season. He has the potential to be one of the best players in the entire league next year."
Joey Scarfalloto was up next. Still just a sophomore, but already a team captain, Scarfalloto was a standout performer at both ends of the floor. He took home one of the top defensive honors, the Take Charge Award.
"Joey brings toughness and a physical presence in the lane," said Coach Wood. "He's turning into an excellent leader on and off the court. Joey's leadership skills are off the chart. He's mature as a person and as a player far beyond his years."
Noah Pender took his place at the podium next.
A senior who showed great fortitude in the face of nagging injuries this year, Pender earned the Team Player Award.
"Noah worked very hard to get back on the court this year," Coach Wood said. "He's a terrific kid. Noah was a key part of our team this year. He pushed his teammates in practice and was willing to do anything to help us be successful."
Grady Birmelin is yet another member of a gifted senior class. A guard who's been with the program for four years, Birmelin is the 2017-18 H. Richard Osborne Memorial Award Winner.
"This award is all about integrity and Grady certainly embodies that quality," Coach Wood said.
"As a player, he's unselfish almost to a fault. You can always count on Grady to do the right thing. I trust him to the ends of the earth."
Anthony DeGori walked away with two honors at this year's banquet.
A senior who led the Hornets in many statistical categories, DeGori earned both the Academic Excellence and Luke Rickard Memorial awards.
Recap
• Honesdale's boys varsity basketball team battled its way through an up and down season in 2017-18.
• The Hornets powered their way to an 8-3 start in the first 11 games, but then fell to 3-8 in the second half.
• Coach Tim Wood's squad was honored this past weekend at the annual Friends of Basketball awards banquet.
• Chris Cespedes, Joey Scarfalloto, Noah Pender, Grady Birmelin, Anthony DeGori and Colin Rickard earned major varsity awards.
Article Courtesy of:
Kevin Edwards
The Wayne Independent