HHS Music Students Perform at PMEA Concerts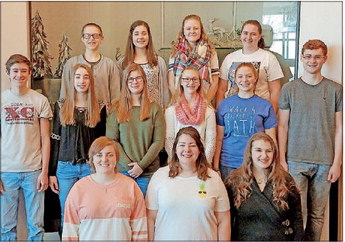 Honesdale High School students had the chance to show off their musical chops at various festivals presented by the Pennsylvania Music Educators Association (PEMA).
This year, Honesdale High School had 13 students, musicians and singers alike attend their respective PMEA's District Chorus, Band and Orchestra events, held on Jan. 11-13, Feb. 8-10 and Jan 25-27 respectively.
The list of musicians and vocalists includes Lindsay Daub, Emily DeCrotie, Angelea Francesco, Kirsten Gager, Kalah Gries, Katie Matlaga, Stephanie Matlaga, Drew Murphey, Kiersten Nordenhold, Madison Palmer, Jordan Pugh, Tessa Vendetti and Abbi Ward.
Of those 13, Emily DeCrotie, Stephanie Matlaga, Drew Murphey, Madison Palmer and Tessa Vendetti have all advanced to PMEA's Regional events.
In discussing her experiences with both District and Regional chorus, Emily DeCrotie said, "It's always nice to be around people that are so passionate about music and just want to learn more and to share their talents with everybody else."
DeCrotie, a senior, has had the benefit of learning from her past experiences at PMEA festivals.
"I placed a lot better this year," she said, explaining that she placed 3rd at preauditions, 2nd at Districts and 8th at Regionals.
In addition to the PMEA festivals, DeCrotie also participated in the Marywood Wind Band Celebration.
DeCrotie plans to continue her musical career by studying music education in college.
With her exceptional skills on the clarinet, junior Tessa Vendetti participated in District Band and Orchestra, and will move on to Regional Band at the end of March.
A veteran participant, Vendetti described her time at the festivals this year as "really fantastic experiences."
She especially enjoyed playing a Bizet piece at District Orchestra, though when asked about a favorite selection she stated "it's really hard to choose when there's a lot of music."
Vendetti is excited to for her upcoming performance at Regional Band and is looking forward to the PMEA festivals next year as well.
She plans to eventually go into music performance as a career.
Abbi Ward played trombone in PMEA District Band and the Marywood Honor's Band, the latter being her induction into the realm of music festivals. "It was really fun to be in an atmosphere where everybody cared about what they were doing," she said, adding, "it was definitely an experience that I want to do again."
Ward hoped to study music education and offer private music lessons in the future.
A flutist in District and Regional Band for two years, Stephanie Matlaga said her favorite piece was Variations on a Korean Folk Song.
"It was challenging and it was difficult but it was fun to play with such an experienced group," she said.
One of the things that made the experience great for Matlaga was the sense of community that comes with returning to festivals year after year.
"This festival was a lot shorter than in the past because of weather, but I still thought it was so much fun." Matlaga hopes to play in a wind ensemble while attending college to become a pediatrician.
In reflecting on her PMEA experiences, Wayne Highlands Choral Director Martha Curtis said, "We're always very proud of the kids and their accomplishments because they work hard on their own and they have to be devoted outside of school."
Curtis elaborated on the potency of their focus and drive to perform, mentioning that most of the PMEA participants perform in numerous festivals in and out of school.
Wayne Highlands Instrumental Music Instructor Betty Ann Robson described the experience as "rewarding, not just for our students but for us who get to watch them grow as a musician."
"What they learn at festivals then, they bring back to our groups here at the high school and help our groups to grow too."
Article Courtesy of The Wayne Independent
By David Mazzenga