Due to inclement weather, all after school activities are cancelled for today, Thursday, March 21, 2019.
Lemnitzer Memorial Fund supports 2016 grad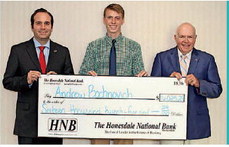 The Ernest and Margaret Lemnitzer Memorial Fund, administered by the Trust Department at The Honesdale National Bank and local Honesdale businessman, Paul Meagher, continued its support of continuing education with a scholarship to a 2016 graduate with a distribution of $16,025.29.
The Ernest and Margaret Lemnitzer Memorial Fund was created by these prominent Honesdale residents to support designated charitable organizations within Wayne County, as well as, provide scholarships to deserving graduates of Wayne Highlands High School.
Ernest was the brother of the former Chairman of the Joint Chiefs of Staff and Honesdale resident, Lyman Lemnitzer.
The 2016 Ernest W. Lemnitzer Memorial Scholarship Award was presented to Andrew Bochnovich, the Valedictorian of the 2016 graduating class of Wayne Highlands High School.
Mr. Bochnovich plans to attend the University of Delaware in the fall with a major in chemical engineering.
The Honesdale National Bank Trust department has managed the investments of the Memorial Fund since its inception in 1991.
To date, grants in excess of $1.4 Million have been paid to qualifying recipients.