Hornets Tennis Celebrate Senior Day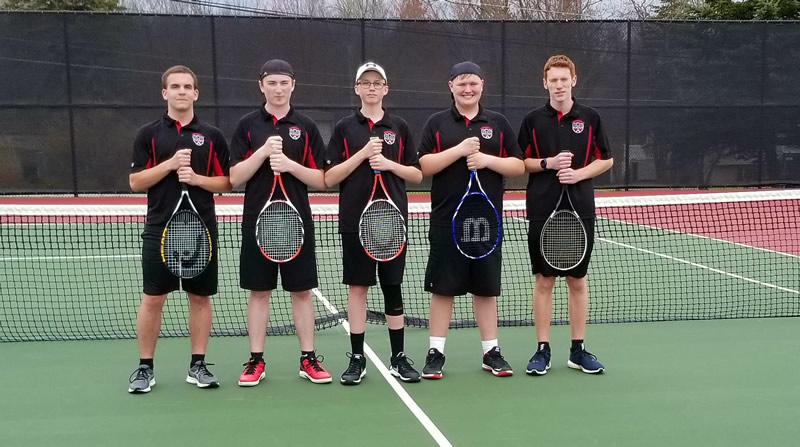 After a season riddled with weather related postponements and cancellations, it seemed only fitting that Honesdale's boys varsity tennis team should be graced with perfect conditions for its Senior Day celebration.
And so, on a picture perfect spring afternoon, dozens of family members, fans and friends gathered at the Daniel J. O'Neill Sports Complex to honor five hard-working young men who were playing in their final home match.
Shea Stanton, Nicholas Theobald, Patrick Tolerico, Matthew Tracy and Matthew Wehrmann were feted during a ceremony just prior to the match against Western Wayne.
"These five boys have been the heart and soul of our team this year," Coach Keith Andrews said. "They have worked very hard and set an excellent example for all our younger kids."
This was the first year for Coach Andrews as skipper of Honesdale's boys varsity squad. Overall, he's pleased with the progress the team has made and believes the program is headed in the right direction.
"We accomplished quite a bit this year," he said."Our underclassmen got valuable experience and there are some very talented kids in the pipeline. I think the future looks bright."
Sadly for local fans, the Hornets weren't able to lock down a win in their 2018 home finale.
Coach Dante Terenzio's Wildcats turned in a balanced performance en route to a 4-1 victory.
With this win, Western Wayne improved its overall record to 8-6 on the year. Honesdale fell to 4-10.
Weather permitting, this year's District Two tourney was scheduled to start Wednesday, followed by the semifinals and finals Thursday at Kirby Park.
There are two automatic bids each from the WVC and Lackawanna League, along with four wildcards.
Leadership
Shea is the son of Patrick & Ginger Stanton. He is a three-year member of the varsity and served as a team captain this year.
His future plans include attending Indiana University of PA and majoring in sports management.
Nick is the son of Joe & Misty Theobald. He is a four-year member of the squad and served as a team captain this spring.
He will attend Kutztown University in the fall and pursue a degree in elementary education.
Patrick is the son of Joe & Lori Tolerico. He is a threeyear member of the varsity squad.
His future plans include attending the University of Pittsburgh and majoring in engineering.
Matthew Tracy is the son of Mark & Melissa Tracy. He is a two-year member of the varsity team.
His post-graduation plans are to attend the Indiana University of PA to study cyber-security and "live a long and happy life."
Matthew Wehrmann is the son of Ken & Paula Wehrmann. This was his first year as a member of the varsity squad.
He will attend Kutztown University in the fall, enrolling in a five-year masters program focusing on computer science and information technology.
On the Court
Western Wayne wasted no time in taking control of Tuesday showdown.
The Wildcats swept all three singles matches and forged a doubles split en route to the 4-1 decision.
Lenny Maiocco got things rolling with a straight set win over Honesdale's Jason Demers. The scores were 6-0, 6-0.
Dominic Corma and Nick Theobald battled at second singles, but the results were the same. Corma notched a straight set (6-3, 6-3) win. The best match of the day came at third singles where Matthew Leslie and Ethan Rickard dueled right down to the wire.
Leslie is a multi-sport standout who also excels on the wrestling mat. Matt won the first set in a tiebreaker. He then dropped the second set, but finally prevailed in the third.
Honesdale's lone bright spot came at first doubles.
There, the dynamic duo of Shea Stanton and John Christiansen lost the first set to Western Wayne's Bradley Carey and Mike Tomasetti.
They bounced back to claim the second, 6-3, then closed out the match in the third by a score of 6-0.
Tuesday's encounter concluded with Western Wayne capturing second doubles, thanks to a solid performance by Mitchell Herzog and Dan Peral.
The Wildcats dropped the opening set, 3-6, but then rebounded to win the second and third by scores of 6-2 and 6-0.
Article Courtesy of:
Kevin Edwards
The Wayne Independent