Damascus to present Elf Jr. this weekend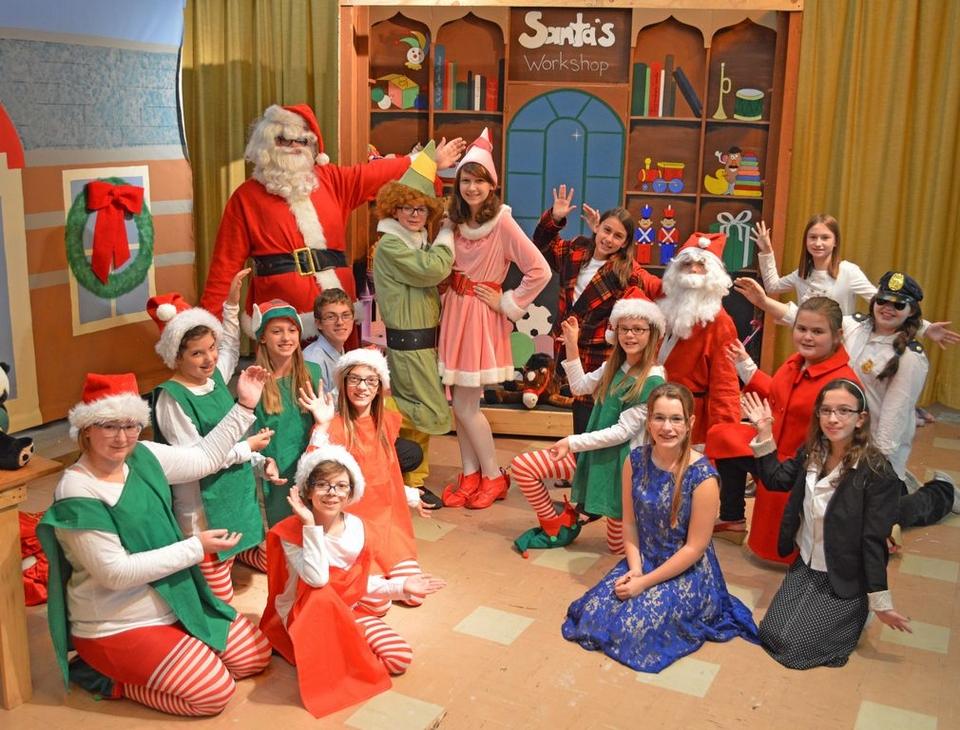 The Damascus School students have been hard at work since the beginning of the school year to present Elf Jr. this Friday and Saturday. Buddy the Elf's story began when, as a baby, he crawled into Santa's bag and was taken to the North Pole and raised as an elf. Later, when he learns he's human, he travels to New York City to find his real father.

Elf Jr. is based on the 2003 film, which was made into a Broadway play in 2010.
Melanie Hansen, play director, has guided these students from their auditions in early September to the moment they take the stage in front of family and friends.
Dylan Matylewicz plays Buddy, a high energy and lovable character.
"We've been practicing since early September," he said. "We know all of our lines pretty well."
His co-star, Abigail Fuller, plays the elf Jovie. She has a fun solo that she finds challenging.
"My solo is 'Never Fall in Love with an Elf,' " Abigail said. "Instead of decking the halls, I'm decking him! I know this song – it's just hard to do."
Dylan's most challenging part is a large monologue.
"For everyone that's worked so hard on this, that's what I [want people to see]."
Play practice represents quite a time commitment, and that produces a tricky school-work balance for some students.
Dylan balances his fun activities with play practice, but later plans to participate in wrestling as well.
"Homework is the number one thing that I have to do," Abigail said. "I spend a couple hours every night on homework every night after play practice it's really difficult to balance."
She doesn't have much free time, but she does enjoy creating costumes and characters through cosplay and attending conventions like New York Comic Con.
Emily Ruggles and Robert Hansen play Mr and Mrs Hobbs, Buddy's human parents.
"It's been really fun to work with all our friends," said Emily, "and learn from each other ...and do better as we go on. We've improved a lot."
Time has really flown by for these students since audition time.
"I remember when [Melanie Hansen] was like, 'We have seven weeks! Lets get this done' and now it's this Friday," Emily said.
Emily has been in numerous productions at school and at camp. She played the scarecrow in the Wizard of Oz. In Beauty and the Beast, she played the Teapot alongside Robert Hansen as the Beast.
"I love it," she said. "I do it every year."
Robert Hansen plays Walter Hobbs, and enjoys the play because he can work alongside all his friends.
Robert is looking forward to seeing his play director witness the whole thing put together.
Emily looks forward to her older brother attending the play.
"I was born 16 years after my brother," Emily said. "I want him to come. I want him to see the snow we have coming from the top. It looks so realistic."
"I'm looking forward to seeing my father come, [and my] grandparents," Robert said.
He's also amused that he gets to do some yelling in this play.
"He's very strict in this play," said Emily. "I'm the kind one."
Emily does basketball intramurals, which means she stays late into evening. She's also in Student Council and volunteers by participating with Box Tops and recycling which takes away homework time.
Robert is looking forward to wrestling.
Both students are in band and chorus.
"It's all worth it because it's fun," Emily said. "It's makes you happy."
Elaine Locicero, formerly involved with the Pennsylvania Ballet and the American Ballet is the choreographer for the kids in this show.
"We're basing it off of a combination of stuff we've already seen and then the DVDs they send [with the songbook]," said Locicero. "And what they can do!"
Shannon Koop was responsible for the creative set dressing for Elf Jr. Guests will be able to see Santa's workshop overflowing with toys, the hustle and bustle of New York City.
Elf Jr. takes place at the Damascus School at 174 High School Rd. Damascuz, PA 18415.
Play times are Friday, November 4th and Saturday, November 5th at 7 p.m.
Ticket prices are $5 for regular tickets, $3 for students, $3 for children 3 to 5 years old and complimentary with a Red/Black Pass.
Length and Intermission
1 hour and 30 minutes, with an intermission

Audience Information
Performances are recommended for a general audience. As an advisory to adults who might bring children, this production is recommended for ages 4 and up. All guests entering the auditorium, regardless of age, must have a ticket.
Rated G
General Audiences

Venue
Damascus School, 174 High School Road, Damascus, PA 18415.
Ticket Price
Regular $5, Senior (+62) $3, Student $3, Children (3-5) $3, Red/Black Pass (Complimentary)
* For your convenience all service charges are placed within the ticket price.