Students lauded for achievements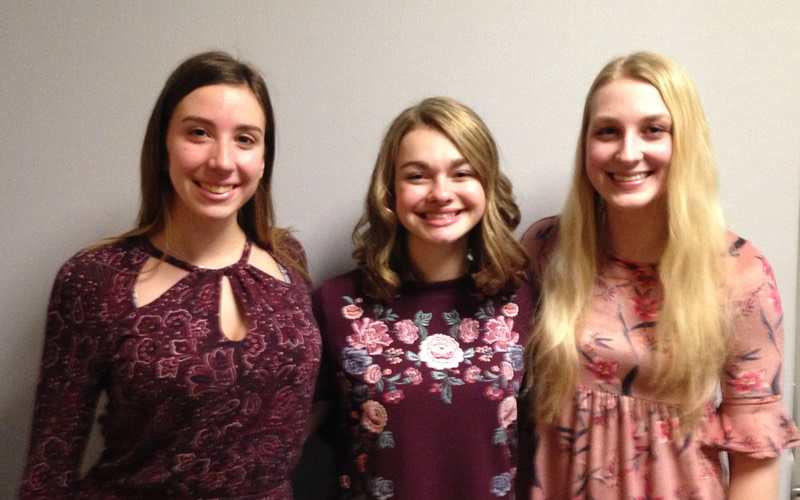 A trio of students were recognized for their academic achievements during the Tuesday meeting of the Wayne Highlands School Board.
Sarah Keast, daughter of Todd and Alicia Keast of Waymart, is in the top 10 percent of her class and is an honor roll student.
Athletically, Sarah has been a member of the JV and varsity basketball teams, where she lettered.
She is also a member of Lawson's Lifting Chicks.
A marching and concert band member, Sarah also performs in the wind ensemble.
She has participated in the American Mathematics Contest and in the American Chemical Society Test.
Sarah is the vice president of the Interact Club, a student council member at large and
is a tutor for a middle school student. Sarah has alo participated in gifted and talented education programs.
She is also a member of the Junior Leadership Northern Poconos Council, the National Honor Society and is a participant in the Cold Springs Harbor Laboratory Genetics Program.
Sarah plans to attend Fredonia State University of New York to Study molecular genetics while continuing her basketball career as a member of the Fredonia Blue Devils.
Addressing the board, Sarah said she lives in a neigbhoring district but that "... it is an honor to attend the Wayne Highlands School District."
"Wayne Highlands has given me the chance to be diverse and receive an exemplary education while also participating in many school activities..."
She thanked her parents and teachers for their support throughout her academic career.
Emily Klim, daughter of Kathleen Brundage and Alex Kilm of Honesdale and Lake Ariel, is also in the top 10 percent of her class.
An honor society and honor roll member, Emily is also a varsity boys basketball cheerleader and a student council member at large.
Emily is also a member of the Interact Club.
She plants to attend The University of Scranton to major in nursing, with a specialty in neonatology.
Emily thanked her parents and step-father for their support, the board and her teachers.
"I wouldn't be here if it wasn't for you guys," she said.
Emma Olver, the daughter of Mark and Tammy Olver of Beach Lake, is in the top 10 percent of her class.
A JV and varsity football cheerleader, Emma was also a member of the JV soccer team.
She served as captain of the varsity wrestling cheerleading team in 2018.
Emma participated in the Marywood Math Contest, the American Mathematics Contest and the Envirothon.
She also participated in the reading competition for four years.
An honor roll member, Emma is also on the National Honor Society, where she
serves as blood drive committee chairperson.
She is also a seven year member of the Calkins Ag 4-H club, where she has acted as secretary for four years.
Emma plans to attend the University of Delaware or Indiana University of Pennsylvania to pursue a major in Pre-Veterinary Biology/Animal Sciences.
"This school district has been amazing for me," Emma said. "I really feel... I'm going to excel in whatever I do because of the preparation that I got here."
Board member Brian Weist addressed the students on behalf of the board.
"Throughout your grade school career you've had a great support system," he said.
"A big thank you to your parents, and congratulations to them as well, as I am sure they are very proud of you."
Article by The Wayne Independent Writers