Damascus School announces performance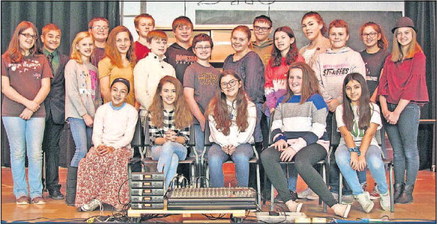 Students storm the stage this Friday evening and Saturday afternoon for the Damascus School rendition of "The BEST Worst Day of My Life," a two-act play by Dick Grunert.
For two days only, show goers will be treated to the comedy/drama following aspiring high school movie maker, Max Griffin (played by sixth-grader Sean Smith), and the cheerleading captain, Amanda Hughes (played by eighth-grader Danielle Gager), as the two endure the worst days of their respective lives.
After Max's new screenplay is purloined by the peevish "Trip" McClusky (played by Zoey Eldred), he teams up with Amanda, recently dumped and humiliated by her footballstar boyfriend, Cody (Ayden Schwesinger), for an adventure unlike any the pair has ever had before.
Will Max regain his stolen script? Will Amanda ever find love again? Find out Friday, November 15, at 7 p.m. or Saturday, November 16, at 2 p.m. in the gymnatorium at Damascus School (174 High School Road, Damascus).
Joining Sean Smith, Danielle Gager, Zoey Eldred and Ayden Schwesinger on stage for the Damascus production of "The BEST Worst Day of My Life" are:
• Jordan Patzuk, the Narrator;
• Drew Rutledge, playing history teacher, Mr. Strickland;
• Madison Candela, playing Max's friend and co-filmmaker, London Kennedy;
• Dakota Byron, playing cafeteria lady, Mrs. Gunderson;
• Jeremy Rake, playing science teacher, Mr. Bosley;
• Jeanine Busnel, playing and out-spoken freshman;
• Gregor Stich, playing both ELA teacher Mr. O'Toole and Principal Schumacher;
• Abbigail Barton, playing the "other" girl, Nancy Richards;
• Saige Olver, Meghan Dowling and Molly Diehl,
playing Amanda's BFFs;
• Kady McElroy, playing gym teacher, Mrs. Ridge;
• Kyle O'Brien, playing librarian, Mr. Deetz and functioning as the director's assistant.
Filling out the high school atmosphere, Drew Rutledge, Dakota Byron, Jeremy Rake, and Kady McElroy will all also play students in the production.
Performing in his second play ever, Sean Smith described his character, Max, as "kind of a nerd and also...he makes many movies."
Stepping up from a nearly silent role two years ago in "Once Upon a Mattress" to now having a prominent speaking role, Smith noted, "I think that it's kind of exciting because I honestly didn't think that I would get the lead. I thought I would get somebody who...was, like, an accomplice of the main character."
No stranger to the spotlight, leading lady, Danielle Gager expressed her excitement at the chance to perform in a dramedy as opposed to a musical.
"It's definitely different from what we've done before," she said. "It gives, like, more of an acting perspective so we get to work more hands on with acting rather than just singing and dancing the whole time. It's definitely different and fun."
Gager noted her favorite part of the play is when she gets to employ her sassiest lines and interact with the audience during the lunch scene.
Likewise noting the shift from musical to straight play, seventh-grade stage veteran Jordan Patzuk noted she enjoyed working on the production "... because there's a lot of funny things happening in the play. I like my part because I get to kind of do whatever I want with it."
She advised the audience to keep a weather eye on the drama's peak in act two.
Making his fourth appearance on Damascus' stage, Ayden Schwesinger said he's happy this year's play is not a musical.
Describing his character, Cody, as "cool," Schwesinger explained he most enjoys the detention scene.
Another stage veteran, Gregor Stich, splitting his stage time between two roles, noted he most enjoys the silly accent he created for the drama teacher, Mr. O'Toole.
"It's really fun to do that horrendous accent," said Stich, noting he
also enjoys being able to project his voice in his role as Principal Schumacher.
He explained stepping into the two roles of authority comes naturally to him because "...often times I often seen different sides of things that other people don't."
Encouraging the greater community to support the local show, director Elaine LoCicero stated, "I hope people come out to see it and support the kids and the school. It's a good one for them to bring their family because it's not overly long."
To get the whole school involved in the production, LoCicero had each homeroom participate in making Max Griffin's famous production "Attack of the Gerbils," which will be running in the background of the play.
Students also made filmthemed posters to hang throughout the school in support of Damascus' production.
"I want the kids here to see there's stuff to do... And I want the community to see the kids," said LoCicero. "Together we can do really fun, creative, awesome stuff."
Stage crew and set design were in the capable hands of students Dan Gager, Emma Snow, Justin Davis and Logan Dieterick under supervision of Jason Smith.
Students Amaia Morales, Maddy Johnson, Natalie Johnson, Raven Hennig and Michaela Davoli built and painted the sets and helped with prop creation under prop master, Kim Martin.
Kayla Benson served the production as makeup specialist and Cassidy Castrovillari was the costume assistant.
"This is the first year we've included kids to be crafting and building props and painting the sets under Mr. Smith's direction and Mrs. Martin's direction," said LoCicero.
Students were also responsible for choosing and designing their own production costumes. "We're just trying to keep the kids involved," the director explained.
Showtime starts at 7:00 p.m. Friday, November 15 and 2:00 p.m. Saturday, November 16.
The show runs approximately 70 minutes with an intermission between the two acts.
Tickets are available at the door at a cost of $5 for adults and $3 for children and seniors.
Concessions will be available thanks to stand operators from Damascus Cub Scout Pack 110 and Damascus Boy Scouts Troop 122.
Article courtest of: David Mazzenga
Tri-County Independent