HHS Varsity Football Team Co-Captains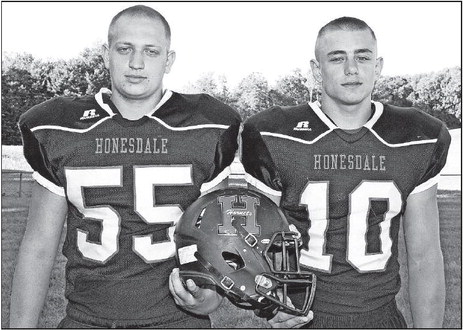 These two hard-working student/athletes have been named co-captains of the Honesdale High School varsity football team. Tyler Taninies (#55) and Beau Freiermuth (#10) both start on offense and defense for the Hornets, who will take on Scranton High School Friday night in a Week Two Lackawanna Football Conference crossover contest at Memorial Stadium.
TWI SPORTS PHOTO BY TOM TRESSLAR

Garyn Barnes provided Honesdale with its lone spark on offensive in Week One against GAR. The big tailback rushed for a game-high 105 yards on 23 carries. Barnes also tallied the Hornets' lone touchdown of the night, a 21-yard scamper early in the fourth quarter.
In addition to Barnes, Coach Jurkowski will also look to co-captains Beau Freiermuth and Tyler Taninies for leadership on Friday night. Taninies is a senior who starts both ways at right guard and inside linebacker. Freiermuth is a junior who also sees action on both sides of the ball at fullback and linebacker.
"They're both growing into those leadership roles," Coach Jurkowski said. "Tyler can be vocal at times and Beau leads more by example. Their styles complement one another pretty nicely."
The book on the Knights is that they run a wide open offense. Scranton likes to go no-huddle and sprint down the field.
If Honesdale has designs on an upset, the Hornets need to orchestrate several time consuming drives and keep that high-octane offense off the field.
"We need to slow down the tempo and cut down on the mistakes," said Coach Jurkowski. "If we get into a track meet with Scranton, we're in big trouble."
The Knights are coming off a wild wild 48-41 loss to Wyoming Valley West
Courtesy of:
Kevin Edwards
Group Sports Editor