Lady Hornets dominate home opener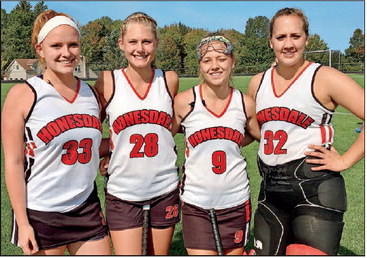 On a picture perfect late summer day at the Daniel J. O'Neill Sports Complex, Honesdale shrugged off a sluggish start to post an impressive win in its varsity field hockey home opener.
The Lady Hornets managed just one goal in the opening half against a scrappy Tunkhannock squad, but came on strong after intermission.
Coach Carly Propst's girls erupted for five second half goals on their way to a satisfying 6-0 victory.
Chloe Fox and Nicole Longman paced the Red & Black attack in this one, combining for four goals and two assists.
"We started off a little bit slow, but the girls really put it together in the second half," she said. "This was a good win for us because the girls finally started working as a team."
With this victory, the Red & Black improved their overall record to 1-1 on the season.
Weather permitting, the local lasses will be back in action Friday afternoon at home versus Abington Heights. Gametime is slated for 4:15 p.m. right here in the Maple City.
Leadership
Any conversation about this year's edition of the Lady Hornet squad must begin with its captains.
Brianna Potter, Corinne Wohlmaker, Leah Jay and Ellie Redick will each play a vital role for Honesdale this fall in its quest for a WVC divisional crown.
"They're a really nice group of girls," said Coach Propst. "Brianna, Ellie, Leah and Corinne have been a big part of this program for a long time. They are excellent leaders on and off the field."
Potter is a senior who's been a member of the varsity team for three years now. In Monday's victory over Tunkhannock, Brianna carded six saves and turned away four penalty corners en route to the shutout.
"Brianna has really stepped it up this season," said Coach Propst. "She's come a long way over the past two years. Brianna really takes charge and I'm very comfortable with her back there."
Wohlmaker is also a senior who saw most of her time at the JV level last year. By the end of the season, though, she had cracked the varsity line-up at center-forward.
"I wish I had Corinne for four more years because she came late to the sport," said Coach Propst. "She's very aggressive and is always around the ball. Corinne is a very coachable kid."
Jay is another member of a talented senior class. One of Honesdale's most versatile players, Leah has been penciled in as the starting sweeper this fall.
"Leah has great length and wingspan," said Coach Propst. "She always works hard and gives 100 percent. I'll be sad to see Leah go when she graduates."
Redick is a senior and a defensive standout.
"Ellie is one of those kids who can be timid once in awhile, but when she gets fired up … look out! Ellie is a very good captain who sets a great example for our younger players."
Tigers tamed
Tunkhannock gave the Lady Hornets all the could handle in the opening half of Monday's contest.
The Tigers held a potent Red & Black attack to just one goal through the first 30 minutes. However, Coach Propst's girls erupted after intermission, peppering the visitors' cage with a barrage of shots.
"Yeah, it was a different story after halftime," she said with a laugh. "We figured some things out, made a couple of adjustments and played much better after that."
Longman struck first for the Lady Hornets. A junior right winger, Nicole gave Honesdale a 1-0 lead at the 9:21 mark with a goal off Amanda Gunuskey's assist.
She would add another goal and an assist in the second half, earning high marks from her mentor.
"Nicole will do anything to help the team," Coach Propst said. "She's quick, fast and really explosive. I'm very happy with how Nicole is playing right now and I can see her being successful at the next level some day."
Wohlmaker made it 2-0 early in the second half, scoring off an assist from Brooke Gardas at 23:59.
It was at this point in the contest that Fox began flexing her muscles. A sophomore who plays the left wind, Chloe rattled the Tunkhannock cage twice in a span of three minutes.
She also recorded and assist on Longman's second goal of the game.
"Chloe is very smart and aggressive," Coach Propst said. "She hustles all over the field. Chloe is a smart player who's improved so much this last year. She has a very bright future."
Over & out
Gardas rounded out the Lady Hornet scoring with an unassisted goal midway through the second half.
The combination of offensive aggression, defensive dominance and solid goal keeping led to an impressive 6-0 win.
"I'm very pleased with how we played overall," Coach Propst said. "We were a little tentative in our first couple of matches, so this was good to see."
Article Courtesy of:
Kevin Edwards
The Wayne Independent