Soccer Senior Night Celebration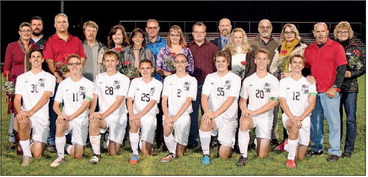 A large, enthusiastic crowd gathered Monday evening under the lights to celebrate Senior Night for the Honesdale High School boys varsity soccer team. The Hornets turned in a solid all-round effort against Scranton, but came out on the short end of a 4-0 score. Pictured here are senior players and family members: Brett Fritz (30), Derek Kirk (11), Parker Propst (28), Hunter Stephens (25), Damien Simpson (2), Liam Pietraszewski (55), Eli Harvey (20), Austin Adams (12). TWI SPORTS PHOTO BY KEVIN EDWARDS
A big, enthusiastic crowd gathered Tuesday at the Daniel J. O'Neill Sports Complex to cheer on the Hornets during an exciting Lackawanna League boys soccer match against Scranton High.
In addition to district playoff ramifications, this particular contest featured an emotional pre-match ceremony honoring senior players and their families.
"I can't say enough about this group of seniors," said Coach Geoff Fowler. "They have been excellent leaders on and off the pitch."
In the spotlight

The Friends of Soccer booster club put together a memorable program that gave every senior a moment in the spotlight.
Brett Fritz, Eli Harvey Austin Adams, Derek Kirk, Parker Propst,Liam Pietraszewski, Hunter Stephens and Damien Simpson each stood at the midfield stripe while a moving tribute was read.
"It's definitely an emotional night," Coach Fowler said. "Every one of these boys is an important part of the team and a lot of them have been involved in the program for many years."
Sadly for local fans, Scranton just had too much firepower for Honesdale in this one.
The Hornets played well in the early going, trailing just 1-0 at halftime.

However, the Knights ratcheted up their offensive attack after intermission, peppering the Red & Black net with shots en route to an eventual 4-0 win.
With the loss, Honesdale saw its overall record fall to 2-8-0 on the season. Next up for the Hornets is a road trip to Delaware Valley.
Game time for this key Division I match is slated for 5:45 p.m. Wednesday evening in Milford.
Under assault

The last time Honesdale and Scranton met on the pitch, the Knights dominated the Hornets from start to finish on their way to a lopsided victory.

So, Coach Fowler and his staff went to great lengths in stressing the need to force the visitors out of their comfort zone.

"Scranton beat us pretty handily at their place," said Coach Fowler. "They're a team that places a great deal of emphasis on possessing the ball.

"What I want to see from us, especially early in the game, is maybe some good transition and long counters to put them back on their heels a little bit."

While the Knights once again dominated time of possession in the first half, the Hornets played dazzling defense and put genuine pressure on the enemy net.
Grady Birmelin and Dominic Amato paced the Red & Black attack.
Birmelin unleashed two laser beam shots late in the half, each of which narrowly missed finding its mark. Amato broke free several times along the home sideline, but also came up short.

Meanwhile, Clay Martin put on a clinic between the posts for Honesdale.

The Hornet keeper made a bushel of highlight reel saves and earned high marks from his skipper.
"Clay isn't the biggest keeper you'll ever see, but he makes up for that with his athleticism," Coach Fowler said. "Clay played an outstanding first half.
The only shot that eluded Martin and prevented the Hornets from going to the break with a 0-0 tie was a penalty kick.
Scranton's Orlin Garcia blasted the ball home from point blank range to give the Knights a 1-0 lead. And, it was an advantage they'd never relinquish.
The Electric City lads took complete control of the match after intermission and cruised to a 4-0 win.
Scranton out shot the Red & Black by a margin of 21-10 and also enjoyed a 3-1 cushion in corners.

Fare thee well
Following a moving rendition of the National Anthem by Honesdale's own Emily DeCrotie, public address announcer Brian Wilken introduced each Hornet senior.
■ Austin Adams: The son of Greg & Debbie Adams, Austin is one of this year's team captains. He is a member of the National Honor Society. He plans to major in math and physics at a four-year university.
■ Brett Fritz: The son of Grant Fritz & Paula Klinkiewicz, Brett is a member of the National Honor Society. He hopes to attend Penn State University in the fall and major in criminal justice.
■ Eli Harvey: The son of David Harvey and Jane Martin, Eli is a team captain and member of the Student Council. His future plans include attending a fouryear college to major in clean energy engineering.
■ Derek Kirk: The son of William & Barbara Kirk, Derek is an Honor Roll student and team captain. Derek's future plans include a four-year college.
■ Liam Pietraszewski: The son of Christopher & Kathy Pietraszewski, Liam is a member of the National Honor Society. His future plans include studying for a degree in physical therapy.
■ Parker Propst: The son of Devery & Hayley Propst, Parker is a member of the National Honor Society and Student Council. He intends to attend a fouryear college and major in electrical engineering.
■ Damien Simpson: The son of Daniel & Kimberly Conklin, Damien is an Honor Roll student and an award winner at the PA Junior Academy of Science. He hopes to attend Marywood University this fall to become a speech therapist.
■ Hunter Stephens: The son of Todd & Richelle Stephens, Hunter is a member of the National Honor Society. He hopes to attend a four-year college and major in biology.
At a glance...
■ Honesdale's Friends of Soccer booster club hosted its annual Senior Night ceremony for the boys varsity team Tuesday.
■ The Hornets hosted Scranton High School in a Lackawanna League match at the Daniel J. O'Neill Sports Complex.
■ Eight seniors were honored in an emotional prematch ceremony under the lights at HHS.
■ Next up for Coach Geoff Fowler's squad is a Wednesday afternoon road trip to Delaware Valley.
Article Courtesy of The Wayne Independent
By Kevin Edwards