Hornet thinclads earn key split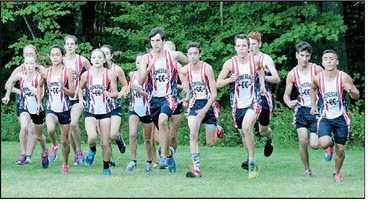 And they're off! Varsity runners from Honesdale rocket off the starting line during Lackawanna League cluster meet action at Merli-Sarnoski Park in Greenfield Township. The Lady Hornets split their two battles, defeating Scranton Prep, but losing a heartbreaker to Holy Cross. First across the line for the Red & Black were Ben Wilken (18:17) and Mackenize LaMorte (20:54).
TWI SPORTS PHOTO BY KEVIN EDWARDS
Honesdale's junior high and varsity cross country teams traveled to Merli-Sarnoski Park in Greenfield Twp. for a Lackawanna League meet hosted by Carbondale Area.
There, the Red & Black squared off against two of the region's powerhouse programs: Scranton Prep and Holy Cross.
Even though it's still very early in the season, veteran head coach Lindsey Pender had circled this date on the calendar long ago.
"With our girls team especially, I knew this was going to be a key meet," she said. "The way things have aligned with our runners, we decided this was one of those years we needed to shoot for the stars."
And, that's exactly what the Lady Hornets did.
On a sun-soaked Tuesday afternoon, the local lasses battled the Classics and Crusaders before a big, enthusiastic crowd. These two encounters went right down to the wire, ending in a hard-fought split.
Honesdale's girls emerged with an impressive 21-35 victory over Prep, but suffered a heartbreaking 24-31 loss to Holy Cross.
With this split, Coach Pender's squad owns a 3-1 overall record on the year.
"I'm extremely pleased with the effort I saw out there today," she said.
"I challenged our girls to step up and give it their all and they really did. Now, we have to make a couple of adjustments and start moving forward."
On the attack
Mackenzie Lamorte is coming off a big freshman season for Honesdale and is poised to carve out a place among the Lackawanna League elite this fall.
The hard-charging sophomore battled her way to a 31st place overall finish on Tuesday. She covered the Carbondale Area course in a time of 20:54, good for ninth among the girls.
"Mackenzie worked her tail off this summer," said Coach Pender. "She's only a sophomore, but Mackenzie already has quite a bit of experience under her belt. I'm expecting big things from here this year."
Honesdale was paced on this particular day by Dedra Harrison. The talented frosh crossed the finish line in 20:16 (25th overall and sixth among the girls).
Rounding out the Lady Hornets top five were Dana Pratt (21:24), Bella Frigoletto (22:00) and Kiara Mayers (22:13).
"We have a wonderful group of girls," said Coach Pender. "They're fantastic. These girls are some of the most coachable I've ever had. Their attitude is great and so is their work ethic."
On the boys side of the ledger, Ben Wilken continues to be one of the steadiest performers in the entire Lackawanna League.
A senior who's been a fixture in Honesdale's varsity line-up for four years now, Wilken powered his way to a 5th place finish in the overall standings. His time of 18:17 helped the Hornets to a team split.
The local lads defeated Holy Cross (21-40), but lost to Scranton Prep (21-36).
"Ben Wilken is a team leader in so many ways," Coach Pender said. "He has outstanding character. Ben is a leader on the team and in the classroom. He sets an excellent example for our younger kids."
David Mead and Drew Murphy were the next two Hornets across the line at Merli-Sarnoski Park.
Mead stopped the clock at 18:41, while Murphy jetted home only two seconds later (18:43).
Rounding out the boys finishers were Dustin Edsall (19:02) and Josef Holbert (20:03).
"I really like this group of guys," Coach Pender said. "They're a little more quiet than I'm used to, but they work incredibly hard."
Courtesy of: Kevin Edwards
Group Sports Editor - The Wayne Independent