Educational Early Dismissals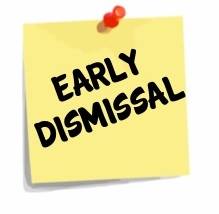 A reminder that we have an early dismissal for students on
Wednesday, June 16, 2021 at 12:30 p.m., for remote educational purposes. Please note, Wednesday early dismissals will continue until further notice.
However, if there is a weather related Remote Learning Day from one Wednesday to the next, then the next scheduled Wednesday early dismissal will be cancelled. Any cancellations will be announced.